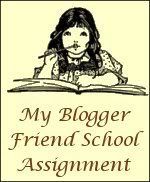 This is WACKY WEEK here at Blogger Friend School! Everything is wacky fun! This week YOU, the student, get to share something of your choice that is little "Wacky"!!!
Have you done something crazy in your homeschool? Do you fingerpaint with your toes? Do you let your children do your hair? Do you wear your pajamas during homeschool? Oh, the list is endless, but it's up to you and how much fun you want to have.
To make it even "wackier" (not sure if it's really a word, but hey, we don't check spelling this week at BFS either!!!…..try and type some or all of your post sdrawkcab. (backwards!)
!keew gnixaler dna nuf a siht ekaM
(…and forwards…Make this a fun and relaxing week!)
Well, I am not even going to try to post anything backwards!! Although I read on someone else's entry that their son found a website that will do that for you, which tempted me for a minute. LOL I don't know that we do anything truly wacky in our school, but my friends often tell me that they think we do lots of fun and creative things. Some of the goofiest things happen during "recess" though. Like the kids inventing a way to be sumo wrestlers on the trampoline:
Some time ago they also used foam blocks as swords and had quite a battle in the kitchen...
The same foam blocks formed a stage for air guitar by Kennady:
As you can see, we often do school in our pajamas. Although some days Kennady wears her uniform:
In this case, it was Tinkerbell - it was in the dead of winter too. LOL
Sometimes the silly things come courtesy of the lesson plans too - like finding ways to teach using food. This was metamorphic rock (like marble) made from Laffy Taffy:
I couldn't resist making a volcano out of ice cream when we studied geology:
These were both from last year's science. This year we are studying physics and I haven't found any food-related physics lessons... YET!
For more Wacky BFS posts, visit Blogger Friend School