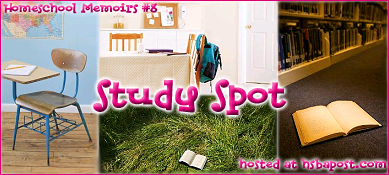 THEME:



This week share your favourite spot to study with your kids. There are many places you can sit down to teach, learn, and work, but where do you prefer and why? You're welcome to include a photo of your study spot! Looking forward to seeing everyone's!
**********************************************************************************
We've been spreading out to study for the most part! Harrison does almost all his schoolwork in his room, usually lying in bed. Spencer does his schoolwork at the desk in his room. Landon does his schoolwork on the floor in his room. Kennady takes her books wherever I am to work on her schooling.
Spencer, Landon, and Kennady all get together for Science and History classes, however, and we do that at the dining room table. We also do our read-aloud around the table, although the past week, we've all piled into my bed to do that, and I think the kids really enjoy that more.
Bottom line for me is that I don't really care where they do their studying, as long as it gets done, and they learn something.
Here's Kennady working on a reading lesson at the table: