Here's what we will be using for high school in the coming school year:
Spencer - Grade 11
Alpha Omega Lifepacs English 11 - Lifepacs has been our curriculum of choice for Language Arts at all levels for several years now. I like that it has everything included in one curriculum package, and having the ten workbooks really makes it easy to break down the year's work into manageable chunks and be able to see exactly how much you've done, and how much is still left. Last year some of the literature sections duplicated what Spencer had done in Notgrass, so we just skipped those parts.
Alpha Omega Lifepacs Geometry - this is the first time we're trying Lifepacs for math. We had been doing Saxon Algebra, and while that does cover geometry well, we wanted a course for this year that focused solely on Geometry. And the price was right - I was able to pick up the entire set brand-new at the curriculum fair for half price!
Apologia
Exploring Creation with Chemistry
- we had a less than stellar experience with Apologia Biology when Harrison worked his way through it several years ago, but I am hoping our time spent with Chemistry this coming year will have much happier results. Science isn't a favorite subject of Spencer's, but one development that I think will really help is that he'll be able to do a weekly class with several other boys to supplement this textbook. We haven't even got a firm start date yet, but I am already so grateful to my friend Loretta for asking if Spencer would like to be included!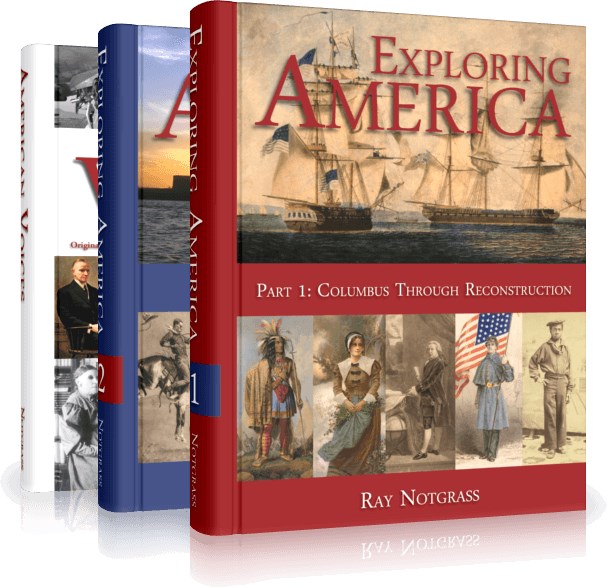 Notgrass
Exploring America
(History, Bible, American Literature) - anyone who has read my blog or talked to me about homeschooling probably knows
how much we love Notgrass
. Nuff said.
ARTistic Pursuits Senior High Book One
- I think this art course, which teaches art concepts while focusing on drawing, will be a great fit for Spencer.
I'll post about my younger kids' curriculum tomorrow!
Curious what others are planning for the coming year? Join us at:
Training Children Up for Christ