I love books. I love reading books, holding books, shopping for books, talking about books... I love the sight of a bookshelf stuffed with books. I love visiting second-hand book stores. I love the library. I just love books.
To my way of thinking, books and homeschooling just go together. Some of the most devoted booklovers I know are homeschoolers, and the majority of homeschoolers I know have an above-average appreciation for books. Our house is full of books. I know there are too many, and I should keep going through them and passing on the books that we really don't need to keep, but I find it very difficult to get rid of books. I have a list of "books I want to read" that is insanely long. My bedside table is stacked with books, and they are also piled underneath the table, and stuffed into the huge bookcase beside my bed. Every bookcase in the house is overflowing with books, and there are boxes and boxes of books stored in the basement and the garage. In fact, my hubby told me a couple years ago that I wasn't allowed to bring any more books into the house until I'd read all the books I already own. Of course, I assumed he was joking, because he is an avid reader too. ;-)
I hope my kids will love books too. My oldest, who has already graduated, learned to read early and easily and has always read very well. But he is not interested in reading fiction at all, which I think is odd. The other three kids read a lot more for pleasure, and very often read in bed before falling asleep. (I can't be the only parent that is torn between hollering at a kid to "quit reading and go to sleep already!" and letting them read for as long as they want to because reading is a good thing.)
What do you love about books? Leave a comment and let me know!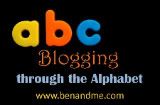 Blogging through the Alphabet is a weekly link-up hosted by
"Ben and Me"
. Please visit to join in and to see what thoughts this week's letter has prompted for other bloggers.