For Think Back Thursday, we're focusing on Wood this week. Hmmm... I couldn't think of old pictures I had of our woodpile or anything like that. But I did immediately think of woodworking. One of the blessings of our homeschool fellowship is the annual Christmas Craft Breakfast. Every year that we've attended, there has been a woodworking craft that at least one of my boys has made.
The first year I can remember, Harrison made a tackle box. It was like a toolbox top, with a sectioned drawer that clamped underneath it. When he first brought it home, it was used to hold Lego pieces! Now it is holding some junk, so I didn't take a picture of it. LOL
Another year, Harrison and Spencer both made a wooden lapdesk. Harrison's eventually made its way to Kennady. It has been dinged up and even written on, but it is still in use.
In more recent years, Landon has been able to participate in the woodworking craft. In 2009 he made this library bench.
In 2011, it was a 3-drawer dresser.
This is the finished dresser, which is now used in the boys' room. Landon sleeps on the top bunk, so he put this mini-size dresser on top of the regular dresser, making himself a 'bedside table' that sits at the perfect height!
And this past year, the craft was simpler - a farm-style wooden bench.
We're very grateful for the talented and patient dads who have been sharing these skills with kids in our homeschool group for so many years!
And guess what - at our spring co-op which starts one week from today, Landon will be taking a woodworking class too. I'm looking forward to finding out what projects they will be doing!
Oh wait... I did find a picture of a woodpile! In 2008, we had some pretty big chunks of wood here before our friends came over with the chipper. My dad and the kids found one piece with a real personality of its own. It just needed eyes.
We genuinely felt the loss when he got cut up to heat our home later that winter.
This post is linked at:
Debbie's Digest for Think Back Thursday.
Visit
Debbie's Digest
to join in with Think Back Thursday, and to see what other bloggers are sharing for this week's theme. Upcoming themes are Silly, and Black and White. Think Back Thursday is a photo meme that encourages sharing something from the past. It is hosted by
Debbie's Digest
. You can find out more about it, and how you can participate, by clicking the link or the button below.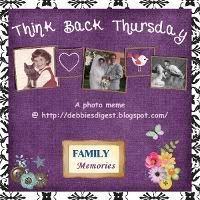 ********************************