So today is Valentines Day and I'll be honest. I think of it as just another Hallmark Holiday and it's not that big a deal. But it so happens that this week I'm on the letter "V" in Blogging Through The Alphabet, and I need some kind of theme for a Think Back Thursday post so... I did the only thing I could do. The only logical thing. V is for Valentine.
And on Thursdays, I don't have a lot of time, so now I don't have to say a whole lot, just share some pictures of me and my Valentine.
our wedding day, 25 years ago
There's just something about Niagara Falls in the dead of winter that inspires you to hug your Valentine. I guess it's romantic there, but more importantly, it was a bajillion degrees below zero and we needed to keep warm! That was actually on my birthday in 2002, I think.
A couple years later we had another romantic date on my birthday - awesome up-close tickets to see his favorite team, the Canadiens, play in Washington.
our 25th anniversary date
If these photos were going to be in chronological order, this one should have been first. But I decided to save best (or most hilarious) for last. A couple years ago, friends of ours sent this old snapshot they'd found to us. We're not entirely sure where this was taken, but it's the two of us the year before we were married. Isn't it sweet? And totally 80s! Plus, I especially like how I snuggled up so close that his glasses are tilted. Yay, me. I do think I looked good with bright blue eyeliner though.
Please visit
Ben and Me: V is for Vacation
to join in and to see what thoughts this week's letter has prompted for other bloggers.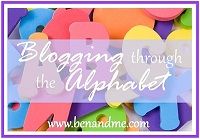 This post is linked at:
Debbie's Digest for Think Back Thursday.
Visit
Debbie's Digest
to join in with Think Back Thursday, and to see what other bloggers are sharing this week. During the month of February, Debbie will be doing a Think Back Thursday series on Playing with Photos - the programs used to enhance or tweak your photos. Or, choose your own Think Back topics and post what you would like! Think Back Thursday is a photo meme that encourages sharing something from the past. It is hosted by
Debbie's Digest
. You can find out more about it, and how you can participate, by clicking the link or the button below.