This week's theme for Think Back Thursday is Flowers. Because April showers (last week's theme was Rain) bring May flowers. I used to chuckle at my aunts for taking pictures of flowers and gardens wherever they went, but once I got a digital camera I found myself a lot more willing to "waste" pictures on flowers! Of course I don't consider it a waste any more! Often these are the photos that will serve as my desktop wallpaper.
The first set are from my own yard. Despite my husband being a greenhouse manager, we do very little in the way of gardening ourselves. I'm not good at it and don't really like it - hey, I am All. About. Low/No Maintenance! And he doesn't have the time during the planting and growing seasons because he's busy at work. We do have some lovely flowering trees:
and lots of Black-eyed Susans, which are one of my favorites as well as being the state flower.
A couple summers ago I managed to get some pretty good pictures of the butterflies, moths, and bees enjoying some of our flowers.
Last summer our outdoor cactus flowered.
The flowers my hubby gave me for our 25th anniversary last summer:
And here she is with creations from another class.
Debbie's Digest for Think Back Thursday.
Visit
Debbie's Digest
to join in with Think Back Thursday, and to see what other bloggers are sharing this week. Upcoming themes include: Walk/Hike; Red (or Pink); Landscape; and Yellow.
Think Back Thursday is a photo meme that encourages sharing something from the past. It is hosted by
Debbie's Digest
. You can find out more about it, and how you can participate, by clicking the link or the button below.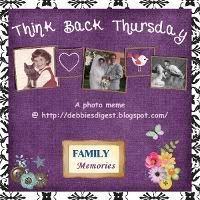 ©2006-2013 Homeschool Coffee Break. All rights reserved. All text, photographs, artwork, and other content may not be reproduced or transmitted in any form without the written consent of the author. http://kympossibleblog.blogspot.com/