Yeah, I'm doing two Think Back Thursday posts this week. We had a choice of themes - Red, or if we couldn't find red, we could do Pink. Here are some "red" things I found in my photobucket account.
Me in my favorite red jacket
Landon's team wore red jerseys a couple of seasons when he played baseball.
So did Kennady for one year.
One year on vacation, we spent a day at World of Coca-Cola in Atlanta, GA. Lots of red there!
This post is linked at:
Debbie's Digest for Think Back Thursday.
Visit
Debbie's Digest
to join in with Think Back Thursday, and to see what other bloggers are sharing this week. Upcoming themes include: Landscape and Yellow.
Think Back Thursday is a photo meme that encourages sharing something from the past. It is hosted by
Debbie's Digest
. You can find out more about it, and how you can participate, by clicking the link or the button below.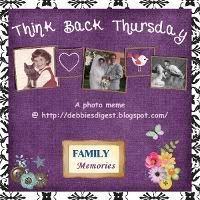 I'm taking the Blog Every Day in May Challenge issued at Story of My Life.
©2006-2013 Homeschool Coffee Break. All rights reserved. All text, photographs, artwork, and other content may not be reproduced or transmitted in any form without the written consent of the author. http://kympossibleblog.blogspot.com/