This post may contain affiliate links - using affiliate links from Homeschool Coffee Break helps fuel this blog and our homeschool - thank you!
In our homeschool... to be honest, I didn't pay a whole lot of attention to what the kids worked on - I just know that they did work on school! Landon stuck with his Notgrass World History course, because he can keep going steadily on with it; and he worked on Drafting as well.

As for Kennady, I may finally have convinced her of the wisdom of working on Math every day, because that is what she did this week, and I only reminded her once! I don't ever have to remind her to work on her Literature and Composition course, and this week she started the unit on The Hobbit, and I'm a little surprised she didn't finish it all in one week! She does a lot of creative writing in her free time, so I am going to evaluate some of those stories to include in her grade.

The snow caused cancellation of Kennady's piano lesson this week, but gym class was held as usual.
In other news...
last weekend, Landon and Kennady were at a winter youth retreat, and came home on Sunday afternoon. They seldom get much sleep at those events, so my plan was to allow them to sleep especially late on Monday morning, and have a half day of school.
On Sunday afternoon, the extreme cold and wind chills finally caught up to our house when the pipe to the upstairs bathroom burst, and water began pouring through the house! Fortunately, it was the upstairs bathroom, so the hubster was able to turn off water just to the second floor so the kitchen and other bathrooms still are functional. Unfortunately, it was the upstairs bathroom, so the water had to run through the main floor and basement, and we had a MESS.
Since we were home, we frantically gathered every bucket we could find to catch as much water as possible, and we moved furniture a little bit to avoid it getting wet. It's amazing to me that the pump organ and the piano were both in the path, so to speak, and neither one got wet at all!
On Monday morning I called our insurance company, hoping that part of the clean-up cost would be covered, since it was obvious to us that the ceiling on the main floor would have to be replaced. We are fully covered, apparently, and opened a claim. The field adjuster visited and assessed the damage, and is submitting the claim to include replacing a lot more than I initially expected. They also sent a water mitigation company to assess how much moisture is really in the walls, ceiling, and carpet, and clean it all up. Because of the cold weather, these companies have been extremely busy this week, and they were unable to get here until just yesterday. Although everything is close to dry on the surface, of course there was a lot of moisture trapped inside the ceiling and in the carpets, so they removed damaged sections, and have left (noisy!) blowers to finish drying it out over the weekend.
So once the insurance company gets back to me with their settlement on the claim, I guess we will be making some decisions about new flooring!
Needless to say, this whole thing has been taking most of my attention this week! Which isn't to say we didn't do anything fun. Midweek activities at church were also cancelled because of the snow, but we had worship team practice anyway. On Thursday evening, Kennady and I went to the Ladies Theme Night at church. The theme was Italian food and chocolate, and It.Was.Delicious. And lots of fun too!
The two big boys begin work at their new jobs on Monday. They will both be working at a new restaurant soon to open up, with orientation and training for all the new employees this coming week. Harrison's last day at his former job was yesterday, but Spencer still has just over a week at the restaurant he is leaving, so he will be basically working two jobs for awhile.
It is bitter cold again this weekend, and the snow has begun again. It's beautiful, but so much colder than usual for here! The kids and I carried in a bunch of wood this morning.
Things that made me smile...
chocolate desserts, delicious Italian food, and fun times with the ladies on Thursday evening.
Getting a chance to see a lovely conjunction of Venus, Mars, and the crescent moon last night. I only regret that the picture I was able to get doesn't begin to do justice to it!
See what I mean? You can barely make out the moon, never mind see Venus. But trust me, it was brilliant.


34 Weeks of Clean...
I'm participating in a weekly challenge and link-up at
Family, Faith, and Fridays,
but I have to admit to you that I didn't do this week's assignment. Not much of it anyway. I do have what I think is a pretty good excuse though - that frozen water pipe that spewed water throughout my entire house on Sunday. I was a little distracted from my plan. But I'm going to work on that today, because honestly there's not much I can do in the areas affected by the water this weekend anyway!
Here is the "before" picture of the dining room:
As you can see, it definitely needed some tidying, and I'm going to reduce the number of things on the shelves. The kids (and sometimes the adults!) tend to leave things on that green side table "until later" but y'know how it is - "later" never comes. We've been working on that bad habit. The floor needs a good mopping, and the windows will get cleaned. Will also wash the curtains. I haven 't got an in-progress photo, but hopefully I will have a great "after" picture to share soon - and then I'll update. Oh yeah, and when we moved some stuff out of the living room, guess where a collection of knick-knacks landed... yeah, the green table. *sigh*
For Week 8, the assignment is to work on our living rooms! The timing is perfect in that my living room is a disaster area right now - literally! - thanks to the water damage! And obviously, we'll have to clear out an awful lot of stuff in preparation for the repair work to come later on. This is what I will be dealing with:
For the details of this assignment, go to
Family, Faith, and Fridays
. Join in if you haven't already, and check back next week for our progress!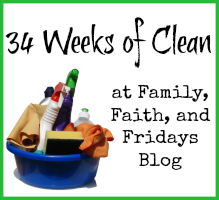 I recommend...
signing up for the
Classical Astronomy e-newsletter
, or following their
Facebook page
. If you're interested in knowing more about what to look for in the night skies, Mr Ryan will give you wonderful information and will inspire you to look up at the sky and marvel at it more often! Jay Ryan is the author of the book
Moonfinder and the book and curriculum Signs and Seasons
, which we used and loved a few years ago. If you're looking for a middle school or high school level science curriculum, I highly recommend
Signs and Seasons
. It's something the family can do together, and it's firmly based in Scripture and honors God the Creator.
When I consider thy heavens, the work of thy fingers, the moon and the stars, which thou hast ordained, what is man that thou art mindful of him? and the son of man, that thou visitest him? ~Psalm 8:3-4
On the bookshelf...
A Change of Fortune
by Jen Turano
The Princess Bride
by William Goldman
I finished reading
Where Trust Lies
by Janette Oke and Laurel Oke Logan - you can
read that review
and others at my book blog,
Just A Second
.
A parting shot...
Don't miss a coffee break!
Subscribe to Homeschool Coffee Break by Email!
©2006-2015 Homeschool Coffee Break. All rights reserved. All text, photographs, artwork, and other content may not be reproduced or transmitted in any form without the written consent of the author. http://kympossibleblog.blogspot.com/