This post may contain affiliate links - using affiliate links from Homeschool Coffee Break helps fuel this blog and our homeschool - thank you!
In our homeschool...
We're still slowly finishing up our schoolwork. Landon is concentrating on getting the last of his World History coursework finished, and he is in the home stretch there. We also got his next unit of drum lessons downloaded so he can start working on that. Kennady is just about finished with Cultural Geography, and picked up her math again this week. She wasn't able to do much with
Unlock Math
this week, now that our internet is slowed down.
Although most of next year's curriculum choices had been made awhile ago, there were still some things up in the air, so we settled those this week. Kennady made a decision on Science, so I bought and downloaded the study guide we needed for that. Once I had it in hand, Landon took a look at it, and decided he will do the same course as an elective. It remains to be seen whether the two of them will do the same course but each on their own, or whether we'll do some of it all together. Kennady also made a final decision on Literature and I ordered the Lightning Lit & Comp study guide she'd chosen. And no sooner had I done that, and we received the new
Illuminating Literature curriculum from Writing with Sharon Watson
that we'll be reviewing! We have lots of literature to study!
Still coming this summer, our reviews of
With Lee in Virginia
and a book from
Classical Conversations.
In other news...
Well, I mentioned that last week was so quiet, because Landon wasn't home. He got home on Sunday afternoon, after 10 days at a Civil Air Patrol encampment. Thanks to the some of the staff posting pictures to the encampment's Facebook page, and my friend getting pictures when she went to pick Landon and her son up on Sunday, I do have a few to share.
Big news this week... Kennady got her hair cut short! And we hadn't planned it definitely, but it seems she has enough cut off to donate again, so we will do that. Except I didn't do the before and after pictures this time! In fact, this picture is not even mine - it's the first selfie she took when we got home! It is very different look for her, and I think it will take awhile for me to get used to it, but I do like it.
Kennady and I both helped with VBS at church this week, so we were busy every evening!
34 Weeks of Clean...
I've been participating in a weekly challenge and link-up at
Family, Faith, and Fridays
and our assignment was our Schoolroom. As I said last week, my first thought was to take a week off, since we don't have a schoolroom per se. But of course, we do have plenty of school books and supplies, and they certainly do need some purging and organizing, now that we are putting away one year and gearing up for another.
Since I plan on posting about our "schoolroom" for the (Not) Back to School Blog Hop next week, I'll have more pictures then. These are the quick Before and After pictures of the two areas by my desk where I keep school books.
Bookshelf with some texts and teacher's editions - not too bad.
Same shelf tidied up and with this year's books in it.
Eeks!! The crate of school books and resources beside my desk
is an overflowing mess!
Cleaned out and tidied up - much better!
For Week 29, the assignment is The Office. Well, part of it. The paperwork and bills, to be specific. For the details of the assignment, go to
Family, Faith, and Fridays
. Join in if you haven't already, and check back next week for our progress!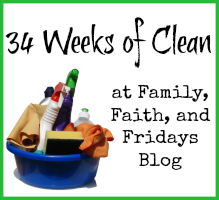 I recommend...
having some fun with the
July Blogging Challenge hosted by
Lynn at This Day Has Great Potential
and
Jennifer at A Glimpse of Our Life.
Have you been following along with the word prompt for each day? I've done most of them, but did miss a day here and there. I was about to skip today too, but figured I could included it as something fun here in my weekly wrap-up post. For today, the prompt is
Indulgence.
How do I pamper myself, and what are some of my little indulgences?
Well, I love to treat myself to a hot bubble bath after a long day. A relaxing bath and a good book. Reading would count as an indulgence too, I guess. And of course a good cup of coffee! Maybe some chocolate - preferably dark chocolate or a Coffee Crisp.
On the bookshelf...
A Study in Death (A Lady Darby Mystery)
by Anna Lee Huber
The Unknown Ajax
by Georgette Heyer
The Conversation
by Leigh A. Bortins
Your Sacred Yes: Trading Life-Draining Obligation for Freedom, Passion, and Joy
by Susie Larson
I finished
In Good Company
by Jen Turano last weekend. (
Read my review here.
) There are also other book-related posts to check out on my book blog,
Just A Second
.
A parting shot...
Don't miss a coffee break!
Subscribe to Homeschool Coffee Break by Email!
©2006-2015 Homeschool Coffee Break. All rights reserved. All text, photographs, artwork, and other content may not be reproduced or transmitted in any form without the written consent of the author. http://kympossibleblog.blogspot.com/