This post contains affiliate links - using affiliate links from Homeschool Coffee Break helps fuel this blog and our homeschool - thank you!
Welcome to the Virtual Refrigerator art link-up! Thank you for joining us as we share what we're creating in our homeschools. We cordially invite you to add your link sharing artwork that's on your Virtual Refrigerator and then hop over to the other blogs and admire what's on their Fridges too! The Virtual Fridge link-up is open all month, with anchor posts planned for each Wednesday (although during the summer, that may not always happen!).
My artist is working a summer job, so I've been digging up some cool projects from our Virtual Fridge archives during August. Once we're back to a regular school schedule, I hope I'll have new art from her to display, but to be honest she's not planning on doing Art for credit, so it will depend how much time she has to dabble in it as a hobby. If you're a fairly regular contributor to the Virtual Fridge, would you be interested in joining in as a co-host? If that sounds appealing to you, please contact me for more information.
From the archives this week - a sampling of pencil and charcoal drawings from Spencer and Kennady.
Tim Horton's coffee mug by Spencer, 2012
Goalie, a study in perspective by Spencer, 2012
Charcoal Still Life by Spencer, 2012
Willow Tree Angel by KAT, 2013
Reindeer by KAT, 2014
Self-portrait by KAT, 2010
Stonehenge by KAT, 2014
Eye by KAT, 2015
This was inspired by the art of M.C. Escher. You can find lesson plans related to Escher in Everyday Easels at
SchoolhouseTeachers.com
, along with lots of other lesson resources.
Join us by sharing your art posts here on the Virtual Fridge, and please grab our button for your post to help spread the word!
Grab a virtual magnet and add your link here to share your child's art or your arts and crafts how-to posts. Please visit the other blogs and admire what's on their Virtual Refrigerators!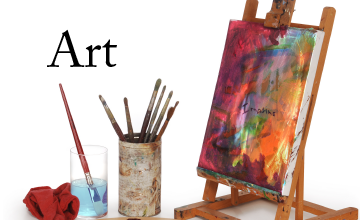 Don't miss a coffee break!
Subscribe to Homeschool Coffee Break by Email!
©2006-2017 Homeschool Coffee Break. All rights reserved. All text, photographs, artwork, and other content may not be reproduced or transmitted in any form without the written consent of the author. http://kympossibleblog.blogspot.com/