Oh, this one looks like FUN!!!!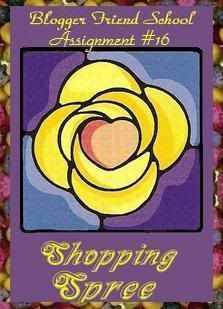 Here's the assignment Nancy gave us: This week you are given $1000 PRETEND online spending money! The rules are simple for this assignment. Using ANY online store…write out a shopping list of what you would buy! You can even post pictures of the items you're buying, if you want, it's not required. These things should be things for YOURself ONLY!

List the name of the website with a link and include product item # and cost…you must use all your $1000 without going over! As a bonus every commentator will have their name put in a basket and I will draw three names of people who have signed the Linky and commented to receive a special prize in the mail from me!
The hardest part of this is going to be choosing things that are just for ME. I REALLY want a new computer though, so my first stop is at the Dell online store...

Dell Inspiron Desktop with Monitor $499
Trophy Chase Trilogy - Books 2 & 3 only ($10.99 each) $21.98
Thistle & Cross Trilogy - Books 2 and 3 only $20.98
The Black Rood and The Mystic Rose (no picture available)
Lawhead books totalling $81.92
Black cowboy boots $84.96
New watch - $44.50
Another of my favorite rings - $15
Haven't forgotten to tithe - $100
___________________________________
Total $997.34
That was harder than I thought! And now a dose of reality:
But remember the LORD your God, for it is He who gives you the ability to produce wealth, and so comfirms His covenant, which he swore to your forefathers, as it is today. ~ Deuteronomy 8:18
But seek first His kingdom and His righteousness, and all these things [the things we NEED] will be given to you as well. ~ Matthew 6:33