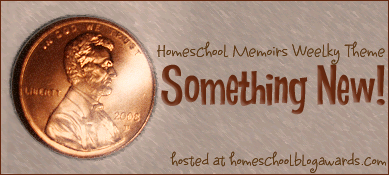 THEME: Planning your homeschool is a lot of fun, especially if you're going to be trying something new. Just like finding a shiny new penny you're excited to use it. Mother Dear has been planning some new curriculum for us, and I am plenty excited to get started on it. This week I hope you'll share something new you're using, why you've decided to use it, and if you have used it how you like it. Make sure to include the publishing information and where you got it from so others can look into if they like.
*******************************************************************************************************
I can think of a couple of "new" things that I can share here, although I may be repeating myself on some of it, and will probably repeat some of this again as the school year goes on! I'll start with a couple of the "older new things"
When my third son was starting school, I found a learn-to-read curriculum that I thought might be perfect for us - Teach Your Children Well - and I have been so pleased with it! Phonics and decoding are taught in a similar style to the popular "Learn to Read in 100 Easy Lessons" book, but there are several levels, and a reader and workbook that go along with each of these lessons. The "grading" system is included as well, and prompts you to award points for working hard, paying attention, as well as for actually reading fluently. Landon did very well with these books, and now Kennady is learning to read with them as well. She enjoys it and looks forward to her lessons.
We started using these "God's Design for..." books for Science two years ago, and I love them. Creation science, works for a large age range, and almost every lesson includes a hands-on activity of some kind. They are supposed to be one whole year of science curriculum in each book, but last year we went through two books and plan to do the same this year. Our first year using these I chose God's Design for Life: The Animal Kingdom, and used it for the three younger kids - grades K, 2, and 7. For the oldest student, I added a few research projects to round it out. We would have had time to tackle a second book that year, but I opted not to. Last year we studied geology, so we used God's Design for Heaven and Earth: Our Planet Earth in the first semester, and God's Design for Heaven and Earth: Our Weather and Water in the second semester - worked for my students from Gr 1, 3, and 8.. This year we are studying Physics and have started with God's Design for the Physical World: Machines and Motion, again with the age spread of Gr 2, 4, and 9.
All the books are available at Answers in Genesis.
Completely new to us this year is the History curriculum my high schooler will be using.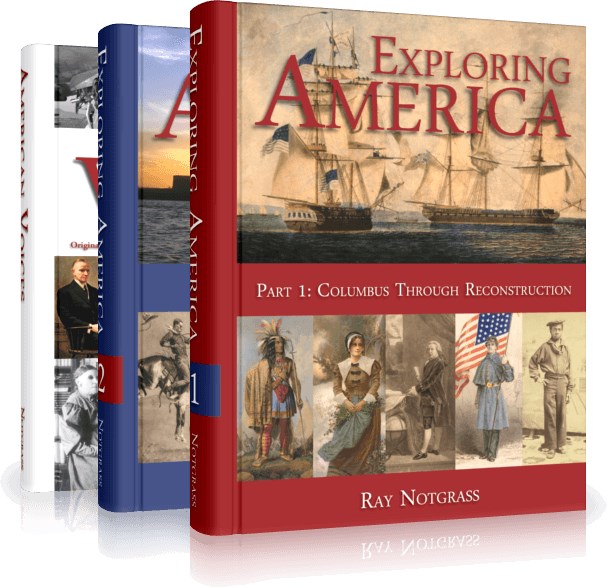 Harrison is mostly excited about this curriculum from Notgrass Company because its worth credit in three subjects. I'm excited about it for that reason as well, but also because it combines Literature and Biblical Worldview teaching with History. And History is a favorite subject of mine. In fact, last night when I was reviewing some of the material, I told my husband that I thought I would try and do all the reading of the lessons and literature along with Harrison. He is just getting started with this today, so I hope it will be enjoyable as well as informative for him. He doesn't like that I told him he needed to turn off his music while doing the reading, so that might be the biggest objection he has. Not sure how I'll enforce that requirement fairly though.
This is the book that Harrison is most excited about! He is studying Physics this year as well, and this is the hands-on portion of the class. He has another textbook that is read and research stuff, and I'm assigning the backyard weaponry projects from this book to go along with specific chapters in the textbook. He was really anxious to get started on this! I am very glad that we have a large enough yard and are out in the country so we can get away with having potato cannons and tennis ball mortars.
Following safety precautions, of course.
Oh, and I don't have a picture of it, but I bought a large whiteboard this year, and we are using it for Sequential Spelling. The whiteboard and an old chalkboard we salvaged from DH's parents' house have already been a huge source of entertainment for the kids. Not only do we use the whiteboard for spelling class, but Kennady likes to draw on it while I am reading the history lessons. Who knew the hidden benefits of having a whiteboard?