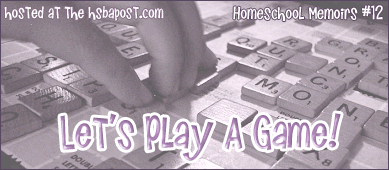 Homeschoolers are very resourceful people. They use what they have and use them to their best ability. I know in our home many times people ask us how we use this or that for learning, and we are happy to explain it's value. I think the main thing that a lot of people miss is that life is learning, and you must use everything in your home for learning otherwise you won't fully be prepared.
THEME
This week I want to invite you to share what different games you use for learning in your homeschool. Outside games, board games, or card games, and what purpose or subject you use them for.
*******************************************************************
I was about to start by saying that we don't play many games as a family, and that would be true. I was also about to say that we don't use games for homeschool, and
technically
we don't. But... there are games that at least some of us enjoy that do have educational value. I just don't put them on the assignment list.
Rummikub - the kids all have enjoyed this game, and it involves sequencing, adding, and strategy.


Card games - Phase 10, Skip-Bo, Uno, even Go Fish - popular with the younger kids.


Monopoly - ah, the entrepreneurial instinct that causes even kindergartners to enjoy this game. My kids play the board game and the computer version.


Computer games - an absolute favorite of the boys is Civilization. And I can't be too hard on them for it, since they are familiar with historical figures as a result; and at a very young age, they have some clue about military strategy and government! I can't speak to how accurate their perceptions might be, but at least they understand about negotiation and being stuck between a rock and a hard place when in leadership. Risk - the computer version - is another game they enjoy.


Roller Coaster Tycoon and Zoo Tycoon - again, the ideas of entrepreneurship, making a profit, customer service, and budgeting.
Those are the games that are most likely to be played at our house. DH plays the computer games with the kids sometimes (because I haven't got a clue) and I am willing to play card games on occasion.
For more Homeschool Memoirs, visit
The Homeschool Post