We're sharing some of our holiday decorations and the memories that go with them on Think Back Thursday this week. (
This post edited on December 21 to update link to Debbie's Digest. Debbie was unable to post the Think Back Thursday link-up last week so we are doing it this week.
) I don't have any vintage decorations saved from my childhood, but some of the things I've collected over the past several years are special to us. I love the "professionally" decorated Christmas trees out on display during the holidays, and sometimes wish I could do something that lavish or well-designed. Those are good for new ideas, but ordinary at-home Christmas trees do reflect something of the people and families who decorate them.
This is our Christmas tree this year. There's no star or angel on top! I have a gold crown of thorns that I like to put on top of the tree, but I stored it in a different box from the rest of the ornaments when I put things away last year, and I'm not sure where it is yet. Usually we have several trees up for the holidays, and some of my miniature trees stay up all year, and I just add some ornaments for Christmas.
The living room tree decorations include some of the Baby's First Christmas ornaments we had for each of the kids. The two in this picture happen to be both for Kennady - a Boyd's Bear and a Coca-cola bear! That was the first time we'd seen a Coca-cola themed ornament for Baby's First Christmas, and as you'll see, we have a lot of Coke themed decorations, so it was perfect for our collection. There's also a miniature Tim Hortons coffee cup ornament, which was perfect for our coffee-loving family.
This is a small sample of the Coca-cola theme ornaments on the tree. My hubby and I love Coca-cola and have been collecting memorabilia since we started dating. There are also a couple of sports theme ornaments in the picture, representing DH's favorite hockey team and mine. I wanted our living room Christmas tree to have something of a color theme a few years ago and since there were a lot of Coke ornaments, the colors were red and white. So the Canadiens and Flames ornaments could stay on the living room tree, but any other team ornaments that didn't "match" had to go somewhere else. LOL DH's favorite NFL team is the Dolphins and he has a couple of ornaments, but the colors don't "go" on my tree! ;-)
When we go on a family vacation late in the year, we try to bring home a Christmas ornament as a souvenir. These pictures are rather small, but they are ornaments from trips to Disney World, Calgary, Florida, and Atlanta. (Yes, it's another Coke ornament!)
In this picture of our fireplace, decked out for Christmas, you can also see one of the miniature trees.
My kitchen and dining room (and our family room too) are decorated with Coca-cola colors and themed throughout, so for the holiday season we display the Santa Claus themed things we have. I guess it's a little odd because we have never done the Santa thing as any part of our celebrations, yet we love the Coca-cola Santa advertisements! These trays are in my dining room...
These vintage and reproduction ads are displayed in our family room...
and this Santa themed Coca-Cola afghan is my favorite to cozy up with while watching one of our favorite Christmas movies (which happen to be "It's a Wonderful Life" and "A Christmas Carol").
This is my nativity set. I love it because it's so different. It's in an African style, and I love how Mary still has a baby belly and Joseph is the one interacting with the infant Jesus.
I've had this music box for several years and it has become a favorite in our home too. We are all a little fascinated with lighthouses, and this one has a keeper that bears an uncanny resemblance to Santa Claus. ;-) When it's turned on, it's sound activated, so every now and again the choir will burst into a spirited rendition of "I Saw Three Ships Come Sailing In" and the red light in the top of the lighthouse blinks.
It's hard to describe our family Christmas traditions, and I feel a little like we don't really have any that are unique to our family. We tend to treat the holiday season as just that - a collection of celebrations. We embrace Advent with its focus on preparing our hearts for our Saviour and looking forward to His coming again. We enjoy all the fun and decorating and family time that surrounds traditional Christmas - we watch Christmas movies and listen to Christmas music and attend parties, plays and concerts. We sometimes joke that I'm a bit of a grinch and I think that our Christmas Eve and Christmas Day activities actually are more like Festivus! We do focus on the wondrous miracle of our God coming as a human in order to save us from sin, but I prefer not to get involved in the debates about keeping Christ in Christmas or the real reason for the season. I want to keep in perspective that Advent and religious Christmas observations are beautiful and deeply spiritual traditions of the Christian church but aren't Biblical feasts that we are commanded to keep. I hope that we make use of the opportunities the holidays give us to share the good news and to turn the attention of others towards Jesus. Because after all, there would be nothing worth celebrating if not for Christ!
This post is linked at:
Debbie's Digest for Think Back Thursday
;
Learning 4 Keeps for the Oh Christmas Tree Linky Party
; and at Schoolhouse Review for the
Sharing Christmas Blog Cruise
. (The Blog Cruise link will be live on Saturday, December 14th)
Visit
Debbie's Digest
to join in with Think Back Thursday, and to see what other bloggers are sharing for this week's theme. Upcoming themes are Christmas Traditions, and Christmas Long Ago (how long ago will be up to you!). Think Back Thursday is a photo meme that encourages sharing something from the past. It is hosted by
Debbie's Digest
. You can find out more about it, and how you can participate, by clicking the link or the button below.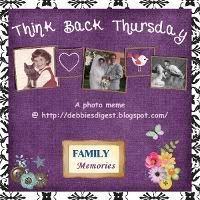 Visit
Learning 4 Keeps
to share your Christmas tree with other bloggers.
And visit the
Schoolhouse Review Crew blog
for the Sharing Christmas blog cruise beginning on Saturday, December 14th; and for all kinds of great blog articles and homeschool reviews any time!