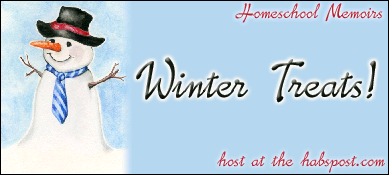 THEME



This week I want to invite you to share one of your favourite winter treats. A treat you look forward to making when the snow falls and include the recipe for it so others can try it out.
**************************************************************************************
We always look forward to eggnog - I am going to try making my own this year, but it is always a happy day when Eggnog Season opens at the grocery stores. The kids want hot chocolate with whipped cream! as soon as wintry weather arrives. But the real treats that we look forward to are cookies and pumpkin pie. Here are a couple of our family's favourite cookie recipes:
Twix Bars (which is really a square, not a cookie)


1 /14 cups flour


1/4 cup sugar


1/2 cup plus 2 tsp butter or margarine




1/2 cup butter or margarine


1/2 cup packed brown sugar


2 tbsp corn syrup


1/2 cup sweetened condensed milk




2 cups semisweet chocolate chips


Bottom layer: crumble first three ingredients well. pack into ungreased 9x9 pan and bake at 350 for 20 minutes.
Second layer: combine next four ingredients in heavy saucepan. Bring to a boil over medium heat, boil for 5 minutes stirring constantly to keep it from burning. Remove from heat and beat slowly until show signs of thickening, then pour over bottom layer.
Top layer: Melt chocolate in a saucepan over low heat (I usually add a little butter as well, so the chocolate does set quite so hard when refrigerated, this makes it easier to cut). Gently pour and spread over second layer. Chill and cut into 36 squares with a sharp knife.
I actually made these yesterday for our youth Christmas party and they disappeared quickly! I'll make more today. it really does taste almost exactly like a Twix candy bar.
Chocolate Chip Shortbread


1 cup butter, softened


1/2 cup brown sugar


1 tsp vanilla


2 cups flour


1 cup semisweet chocolate chips


Measure butter, sugar, vanilla and flour into a bowl and work together until it forms a ball. Add chocolate chips and work into dough. roll into 1 inch balls and place on ungreased cookie sheet. Flatten with a fork. Bake at 325 for 10- 15 minutes.
We all love shortbread cookies, and this recipe is MY personal favorite. It's also especially good with the special flavored chips like chocolate raspberry or cinnamon chips.
Peppernuts


3 eggs


1 cup white sugar


1 cup brown sugar


2 3/4 cups flour


1 tsp baking powder


1 tsp cinnamon


1/2 tsp allspice


1/2 tsp nutmeg


1/4 tsp cloves


1/4 tsp pepper (white or black)


1 1/2 tsp grated lemon rind (optional)


1/2 cup finely chopped almonds


Beat eggs until frothy, add sugars. Beat until very light and fluffy, at least 5 or 6 minutes. Add all remaining ingredients and mix together well. Roll into 1/2 inch diameter ropes and slice into pieces 1/2 inch long. Arranged on greased cookie sheet and bake at 325 for 15 minutes until browned.
Peppernuts (or the Low German pronunciation we use which sounds like pay-pah-nate) are a highlight of every Christmas at our house. I have only made them myself once or twice, because my aunt usually sends us a boxful. My MIL has sometimes asked ahead of time if Auntie Linda has sent "those little cookies" again this year. LOL We got our batch of peppernuts in early october this year, when the aunts were here for a visit, so they are gone by now and I think the kids will enjoy helping me make our own for a change. The above recipe is not the exact same one we use (ours doesn't include rind or almonds), but its very similar, and it's the one I had handy for copying. And besides, I can't give away the family recipe for nothing!
I'd share my recipe for Nanaimo Bars BUT: 1)I like to keep it a secret so I can have the monopoly on it LOL; and 2)it includes a hard-to-find-in-USA ingredient. Plus, chances are if you don't live in Canada, you won't know what it is anyway.
Thanks for visiting!! For more Homeschool Memoirs, or to participate, go to The Homeschool Post