Members of the TOS Review Crew have been trying out
Action Alert
, an internet safety product that makes it easy to make the internet a much safer place for kids.

The downloadable software offers these internet tools, and installs in just a few minutes: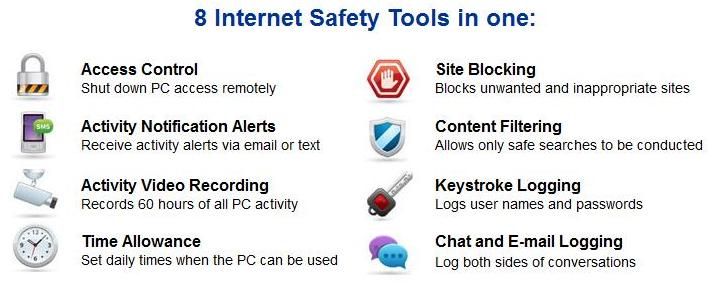 With Action Alert, parents can block and filter websites to protect kids from inappropriate content, set time allowances on computer use, and can even shut down computer access remotely from another computer or the cell phone. Action Alert will also record all computer activity, sort of like a DVR, so a parent can review what's been happening with web activity, chat, games, and more (online and off!).
There is a free version of Action Alert, and a Maximum Protection version that is fully customizable, offers multiple user protection, and social network monitoring.
We were able to review the Maximum Protection version, and while it did take a couple of tries before I had it installed, it really was very easy and took only a couple of minutes. The software is installed on our family computer so that the kids' user accounts are protected, but my account - the administrator account - is not monitored. So for the most part, I honestly don't notice it's there, except for the emails I get letting me know how much activity has been recorded and the time spent on the computer. My oldest son (19yo) was not impressed that he automatically got a new homepage, but once we figured out how to change that, he hasn't complained. Now the things is - he is the only one of the kids that consistently uses his own user account! The other kids use theirs sporadically, but since we only have one computer with internet access, and it's under supervision, they mostly use my account when they are online anyway, and generally only when I'm home.
I like the idea of the activity being recorded, which builds accountability; and I like the ability to shut down the computer from my cellphone if I get an alert that someone is possibly doing something they shouldn't. I think if we had other computers that had internet access, or had kids using the computer in situations where they were not directly supervised, I would find Action Alert a very valuable tool. However, the way we're using our computers at present, Action Alert has been mostly in the background and not getting much 'action'! Which, in many ways, is a good thing, because it means the kids aren't looking for trouble.
Here's what you need to know:
Visit Action Alert for more information. Choose the Free Protection version, or Maximum Protection for $29.99.
Visit the TOS Homeschool Crew blog for more information, and to read other Crew member reviews.

Note: As part of the TOS Homeschool Crew, we received a complimentary download of the Maximum Protection version of the software in exchange for our honest opinions.