I am not good with time management. I tend to underestimate how long a task will take. And I procrastinate. Not only that, but when I get started on a project, I get immersed in it and lose track of time. In other words, I too often find myself buried in a to-do list that has grown unmanageable because I was distracted and interrupted and unmotivated.
Some people have a custom of choosing a word or idea to focus on during an upcoming year. If I had to choose one today, it would be Priorities. The beginning of a new year, or even a new month, is a clean slate and a fresh start. A chance to hit the reset button on priorities. I don't put too much stock in making New Years Resolutions, but I have been thinking about how I want to live out my priorities. If I can only accomplish two or three things on my long to-do list each day, which things are the most important? Which activities best reflect my heart priorities and values? Am I forgetting about the Important because I keep doing the Urgent, or worse, the Unimportant?
I'm still not entirely sure how this will play out in my day-to-day life. Somehow I think that I'd better not try to completely overhaul my daily schedule and habits. I suspect that a tweak here and there and being intentional about those little changes will work better. Things like how I spend the first 15 minutes of my day when I get up and how I spend the last 15 minutes of my day before I turn in. Things like having a plan for what I need to get done instead of just hoping that I'll remember. Grading schoolwork is probably more important than reading blogs. I love to read blogs, especially homeschool blogs, but I need to homeschool
first
, then read or blog about it. Keeping the house clean is important, and sadly, it doesn't clean itself. Living healthfully is important, so maybe preparing healthier meals needs to be a little higher on the priority list.
Feeding the cat is someone else's job.
But I do need to get some lesson planning today. Going to go work on that right now!
All we have to decide is what to do with the time that is given us.
~J.R.R. Tolkien
Commit to the LORD whatever you do, and your plans will succeed.
~Proverbs 16:3~
May he give you the desire of your heart
and make all your plans succeed.
~Psalm 20: 4~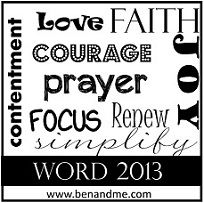 This post is linked twice at
Ben and Me
- for Word 2013, and for Blogging Through the Alphabet. Please visit
Ben and Me: P is for Project Life
to join in and to see what thoughts this week's letter has prompted for other bloggers.