We don't do Unit Studies very often any more, and sometimes I miss them. I think Unit studies are great for younger students, especially, because you can take advantage of a season or a current interest to spark learning. In our homeschool, I've found that as my students get older, it works better to use the Unit study approach as an occasional break from routine rather than as the majority of our curriculum. I've taught or helped to teach several co-op class series that are based on Unit studies. These include the Lewis and Clark Expedition; Weather; and Explorers.
One of my very favorite Social Studies resources is
Around the World in 180 Days
, which I consider to be a huge Unit study spine. It's designed to provide a solid outline for studying world geography, history, and culture over a school year. We did that the first year we used it, but I've also used only part of it in four other years, and plan to do that again next year.
History, world cultures, fine arts, and science are great subjects to teach using Unit studies. You can spend two weeks or ten, depending on how much material you want to cover and how long everyone stays enthusiastic.
For history, try unit studies on Ancient Egypt, Ancient Greece, the Roman Empire, the Renaissance, the Reformation, the Industrial Revolution, the Civil War... so many possibilities! Combine History and Bible by doing a Unit study on a portion of Israel's history.
World culture studies are great Unit studies that are relatively easy to put together on your own. Choose an area - for example, Japan - and learn a little about its people and their history and religion. Hunt up some simple folk art crafts and traditional dishes to try. Read some of the folk tales or myths. You might even listen to some music from the region.

To incorporate the arts into your homeschool, try a unit study on an artist or art style such as Impressionism or Art Deco. The same can be done with music. Choose a composer or an instrument to study for a week or two.

There are too many ideas for science-focused Unit studies to list, but some we have done include: volcanoes; hurricanes and tornadoes; gemstones; space exploration; airplanes; marine mammals; and communication inventions.
Sometimes a short Unit study can result from something on the calendar. Last weekend was Groundhog Day and I know there are homeschoolers who did a weather study or a study on groundhogs and other rodents. This weekend will be the Chinese New Year. Coming up in a couple weeks is the Jewish festival of Purim. For Presidents Day, maybe a study of George Washington or Abraham Lincoln would be in order. Next week is Valentines Day which could inspire a study on St Valentine, or a research project on the practice of sending Valentines greetings, or even a science study on the heart. And that's just February!
The internet and the library make it possible to fill an entire school year with great Unit studies that are basically free. Pinterest alone will turn up tons of ideas from other homeschoolers willing to share their experiences. Many publishers provide Unit study guides for those who prefer to have an outline and suggestions to start with. One of the best known is
Unit Studies by Amanda Bennett
. Amanda Bennett's unit studies cover a wide range of topics, can be used for all ages, and are available as instant downloads. There are also guides for how to organize your school year using unit studies.
More Resources Worth Checking Out
Want everything packaged up for you, so your Unit study is completely ready to go? You might like
Box of IDEAS
, which we reviewed last year.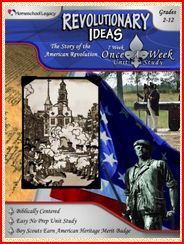 Please visit
Ben and Me: U is for Unmeasurable
to join in and to see what thoughts this week's letter has prompted for other bloggers.