Apparently I don't take very many pictures when we go for walks. I had to do some thinking to come up with something I could share for this week's Think Back theme of walks or hikes. In November 2011, we went to Deep Creek for a family vacation, and while there we went on a couple of winter walks through state parks.
We visited Blackwater Falls State Park in West Virginia.
Fortunately for me, most of the trails to the falls were well-kept boardwalks and stairs. I had recently been having a very bad time with my (arthritic) knees and also had a hip injury.
The views were very rewarding!
Spencer didn't want to stand still for a picture, so hubby had to coerce him a little.
On another day, we visited Maryland's Swallow Falls State Park, where the trails were quite a bit rougher so it was more challenging for me. But again, beautiful views!
Debbie's Digest for Think Back Thursday.
Visit
Debbie's Digest
to join in with Think Back Thursday, and to see what other bloggers are sharing this week. Upcoming themes include: Red (or Pink); Landscape; and Yellow.
Think Back Thursday is a photo meme that encourages sharing something from the past. It is hosted by
Debbie's Digest
. You can find out more about it, and how you can participate, by clicking the link or the button below.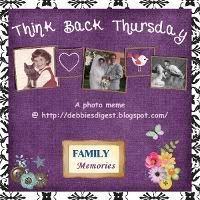 I'm taking the Blog Every Day in May Challenge issued at Story of My Life.
©2006-2013 Homeschool Coffee Break. All rights reserved. All text, photographs, artwork, and other content may not be reproduced or transmitted in any form without the written consent of the author. http://kympossibleblog.blogspot.com/