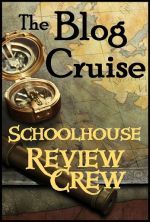 For the upcoming Blog Cruise, Schoolhouse Review Crew bloggers were asked to write something inspired by the title "Fall into Nature". Hmmm. While our family enjoys walks in the woods and days at the beach, we are not really the hardcore back-to-nature types or outdoorsmen. So when it comes to hiking, camping, or nature study, we usually choose an option that makes it easy on us. Fall is a favorite time to take a family vacation, and it often works out very well to include a field trip on vacation that allows us to enjoy nature and the outdoors without making a huge production of it. You see, my kids don't like to hear the word "educational" when they are on vacation.
This year we were particularly fortunate, as our vacation took us to parts of the western US and Canada at the beginning of October. We planned to visit my family in southern Alberta, but chose to fly into Spokane, Washington, and do some driving rather than to fly directly to Calgary. This allowed us to see a little bit of northern Idaho,
Glacier National Park
in Montana, and some of the Canadian Rocky Mountains on our way to and from the foothills and prairies. The weather is never completely predictable, but we knew it wouldn't be too hot and were reasonably confident that it wouldn't be too cold either. And that we were unlikely to have trouble with severe winter weather.
I carefully avoided referring to anything as "educational" or "for school" but will still count some of our experiences as field trips, and I bet I'll be able to refer to some of what we saw as we get into our studies during the school year. Although our visits to
Glacier
and
Banff
would also qualify as nature-based field trips, I'm going to limit this post to our time at a wildlife refuge in Idaho. (Please do come by over the next several days as well, because I will be sharing about the other places we visited as well!)
Our first stop on our way from Spokane to Kalispell, Montana was in Bonners Ferry, Idaho. If you travel there, don't miss the
Kootenai National Wildlife Refuge
just outside of town. It's free, so it's a real bargain! It was drizzling off and on most of the time we were there...
so pictures taken through the window didn't turn out that great. LOL
Much better!
This was primarily for hunters, who may hunt waterfowl during season in the refuge, but was helpful for amateur birdwatchers too.
Even with the cloudy skies, the scenery was breathtaking.
Just how big are the birds? This put it in perspective.
Alright... so where is the wildlife we're supposed to be able to see at this refuge? Cool and damp weather might help or hurt our hopes of seeing birds and animals, so we didn't really know what to expect. Not surprisingly, we spotted white-tailed deer first. It's hard to tell from this picture, but they do look slightly different from the deer we commonly see in Maryland. These have much larger tails, and their backsides are whiter too.
We saw plenty of what we truly expected - waterbirds. Canada geese, mallards and other ducks, herons, and more.
And finally!! I've been waiting for over a year, but we finally saw moose! After waiting so long to see one, perhaps I can be forgiven for taking multiple pictures of them.
And one of the bald eagles we saw was very cooperative and stayed put on his branch until we'd got several pictures of him as well.
Do you enjoy nature study of some kind in the fall? Leave a comment and share your thoughts! Be sure to
visit the
Schoolhouse Review Crew blog
(this link will be live on Tuesday, October 22nd) to see what other Crew members shared about "fall into nature". You can also visit the
Schoolhouse Review Crew blog homepage
to see the reviews we are working on, past reviews, and past blog cruise topics.
This post is also linked on Field Trip Friday co-hosted by:
Chestnut Grove Academy
,
Our 4 Kiddos
, and Mimi's House.

Don't miss a coffee break!
Subscribe to Homeschool Coffee Break by Email!
©2006-2013 Homeschool Coffee Break. All rights reserved. All text, photographs, artwork, and other content may not be reproduced or transmitted in any form without the written consent of the author. http://kympossibleblog.blogspot.com/