This post may contain affiliate links - using affiliate links from Homeschool Coffee Break helps fuel this blog and our homeschool - thank you!
Welcome to another edition of the Virtual Refrigerator! This weekly blog hop is co-hosted by
A Glimpse of Our Life
,
Homeschool Coffee Break
, and
Every Bed of Roses
. We all cordially invite you to add your link sharing the art that's on your Virtual Refrigerator and then hop over to the other blogs and admire what's on their Fridges!
September's Art Challenge: Artist Studies
A Glimpse of Our Life
has been featuring the artist Eric Carle this month. Keep an eye out for more studies to follow! Leave a link on our Virtual Fridge to your own artist study or art how-to post, or to the art projects you and your kids have created in your homeschool.
So this is something Kennady doodled up this week. I didn't catch the significance of it (except that 42 is the answer to the universe) so she had to explain to me that it's the "lucky numbers" from Lost. Clearly I am missing out by not watching.
Lost Numbers by KAT, 2015
At any rate, I like her presentation, and it reminded me of an artist study that I had bookmarked a couple weeks ago thinking she would be interested. She was busy with other schoolwork this week, so we just took a look at the blog I found it on, and I printed out the instructions for her to try the project. So, here's a quick preview of what we might have on the Fridge next week!
I found an art lesson on precisionism and typography based on the art of Charles Demuth on the blog
Create Art With Me
. It's inspired by this example of Demuth's artwork, I Saw the Figure 5 in Gold. Demuth was a watercolorist who developed the art movement known as Precisionism.
I Saw the Figure 5 in Gold by Charles Demuth, 1928
What's on your Virtual Fridge this week? Leave a comment, share a link, and let us know!
You can grab the button above and add it to your post. Add your link here to share your child's art or your arts and crafts how-to posts. Please visit the other blogs and admire what's on their Virtual Refrigerators!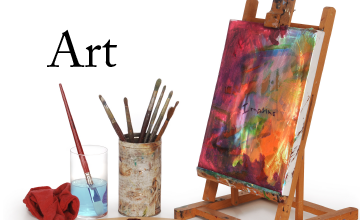 Don't miss a coffee break!
Subscribe to Homeschool Coffee Break by Email!
©2006-2015 Homeschool Coffee Break. All rights reserved. All text, photographs, artwork, and other content may not be reproduced or transmitted in any form without the written consent of the author. http://kympossibleblog.blogspot.com/