This post may contain affiliate links - using affiliate links from Homeschool Coffee Break helps fuel this blog and our homeschool - thank you!
Welcome to another edition of the Virtual Refrigerator! This weekly art link-up is co-hosted by
A Glimpse of Our Life
,
Homeschool Coffee Break
, and
Every Bed of Roses
. We all cordially invite you to add your link sharing the art that's on your Virtual Refrigerator and then hop over to the other blogs and admire what's on their Fridges!
Remember last week I shared that Jennifer (at
A Glimpse of Our Life
) was having trouble keeping up with the Fridge right now, and that Chareen (at
Every Bed of Roses
) was on an exciting trip into the Australian Outback the past few weeks. (Make sure you check her blog because she has started sharing pictures from her adventure!) Well, this week my family has had some unexpected events that have interrupted our routine, so I will once again be turning to my archives for this week's Fridge.
Yesterday I showed my Calgary Flames coffee mug in Wordless Wednesday, in celebration of the NHL season beginning. Sadly, my Flames didn't win their game last night, but there's a lot more season still to come, right?! It reminded me that the same mug has been featured in Kennady's artwork, and in fact, coffee is a recurring theme in her art. And Spencer's too.
Tim Horton's coffee mug by Spencer
Shades of Coffee by KAT
Coffeemaker by KAT
Two of Mom's Favorite Mugs by KAT
Stay tuned for some changes and other news on the Virtual Fridge!
What's on your Virtual Fridge this week? Leave a comment, share a link, and let us know!
Add your link here to share your child's art or your arts and crafts how-to posts. Please visit the other blogs and admire what's on their Virtual Refrigerators!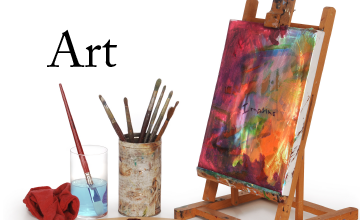 Don't miss a coffee break!
Subscribe to Homeschool Coffee Break by Email!
©2006-2015 Homeschool Coffee Break. All rights reserved. All text, photographs, artwork, and other content may not be reproduced or transmitted in any form without the written consent of the author. http://kympossibleblog.blogspot.com/