This post may contain affiliate links - using affiliate links from Homeschool Coffee Break helps fuel this blog and our homeschool - thank you!
Welcome to another edition of the Virtual Refrigerator! This weekly art link-up is co-hosted by
A Glimpse of Our Life
,
Homeschool Coffee Break
, and
Every Bed of Roses
. We all cordially invite you to add your link sharing the art that's on your Virtual Refrigerator and then hop over to the other blogs and admire what's on their Fridges!
November's Art Challenge: Thanksgiving
During the month of November, the Virtual Fridge would like to feature artwork with a Thanksgiving related theme. Please continue to share any art posts on our Virtual Fridge - we love seeing all of them!
I reminded the resident artist that she's capable of more than just cartoon characters, so she decided it was time to return to one of her favorite media, chalk pastels. She gave me this pumpkin yesterday.
Thanksgiving Pumpkin by KAT, 2015
I'm actually very surprised that she did just the pumpkin, and didn't already turn it into pie. That girl loves her some pie, so I kind of expect to receive a portrait of pumpkin pie soon. Remember the cherry pie from a couple months ago?
I Like Pie by KAT, 2015
Stay tuned for some changes and other news on the Virtual Fridge!
What's on your Virtual Fridge this week? Leave a comment, share a link, and let us know!
Add your link here to share your child's art or your arts and crafts how-to posts. Please visit the other blogs and admire what's on their Virtual Refrigerators!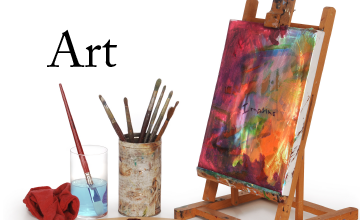 Don't miss a coffee break!
Subscribe to Homeschool Coffee Break by Email!
©2006-2015 Homeschool Coffee Break. All rights reserved. All text, photographs, artwork, and other content may not be reproduced or transmitted in any form without the written consent of the author. http://kympossibleblog.blogspot.com/