This post contains affiliate links - using affiliate links from Homeschool Coffee Break helps fuel this blog and our homeschool - thank you!
Welcome to another edition of the Virtual Refrigerator! Thank you for joining me and my co-hosts for our weekly art link-up. We all cordially invite you to add your link sharing artwork that's on your Virtual Refrigerator and then hop over to the other blogs and admire what's on their Fridges too!

Today is the first day of autumn, so I am putting up a collection of fall-themed art on my Virtual Fridge to celebrate. And I'm pretty sure that sometime today I'll find a way to enjoy something pumpkin spice, apple cider, or maple flavored.

Leaf rubbings are a great simple project for early in the fall - before the leaves get too crunchy!
I saw this idea at a student art exhibition a couple years ago, and we still haven't made our own, but it's on my wishlist. The tree trunk is made from a brown paper bag, and the leaves are puzzle pieces painted orange and yellow.
This was a leaf drawing in chalk pastel that Kennady made a couple years ago. Can you tell that it's made from a hand tracing? (Featured here:
Virtual Refrigerator - Autumn Leaves
)
Autumn Leaves by KAT, November 2014
More chalk pastel autumn art.
Birch Grove in Autumn by KAT, 2015
And of course - pumpkins! Here are a couple of pumpkin drawings from the past.
Pumpkins and Corn Stalks by KAT, 2014
Thanksgiving Pumpkin by KAT, 2015
What art projects does autumn inspire for you?
Autumn carries more gold in its pocket than all the other seasons. ~Jim Bishop
Now it's your turn! Join us by sharing your art posts here on the Virtual Fridge!
Grab a virtual magnet and add your link here to share your child's art or your arts and crafts how-to posts. Please visit the other blogs and admire what's on their Virtual Refrigerators!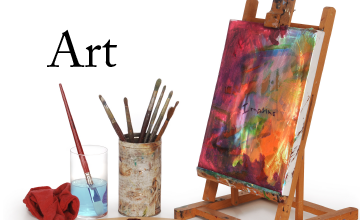 Don't miss a coffee break!
Subscribe to Homeschool Coffee Break by Email!
©2006-2016 Homeschool Coffee Break. All rights reserved. All text, photographs, artwork, and other content may not be reproduced or transmitted in any form without the written consent of the author. http://kympossibleblog.blogspot.com/