This post contains affiliate links - using affiliate links from Homeschool Coffee Break helps fuel this blog and our homeschool - thank you!
A week ago, the first quarter of the school year ended, and members of my umbrella group are submitting grades for their K-8 students. Grades for high school students don't need to be submitted, but at the end of the first and third quarters, I like to do a quick "in-house" report card to give us a better picture of how much we've accomplished so far, and whether we're on track.
We made a couple of early adjustments to our schedule and how we're working through Kennady's courses this year, so here's a summary of where we are and what we need to do.
Grammar and Composition
The Power in Your Hands
from
Writing with Sharon Watson
- right at the beginning of the year, Kennady reviewed the lessons she'd completed in this non-fiction writing course when we reviewed it. (You can read our review here:
The Power in Your Hands (A Schoolhouse Crew Review)
) Then we decided to wait on this and most of our other language arts coursework until Kennady had finished her Health course. We estimated that we should be able to pick these up around the start of the second quarter. Well, the second quarter has started, but we're not quite ready to pick up again. We should be soon though. The other resources we're using for Grammar and Compositon are
Fix-it! Grammar
and
Linguistic Development through Poetry Memorization
(both from
Institute for Excellence in Writing
). We've been doing a little Fix-It! here and there so that's fine, but to be honest, we'd more or less forgotten about the poetry so we need to get back to that. It's mostly for fun so I don't feel like we're "behind" if we don't get through it. But when we leave it too long, we start forgetting the poems we've already memorized, and that would be a shame!
History, Bible, and Literature
We are using
Exploring World History
from
Notgrass
, which provides credits in all three subjects. Kennady is pretty much on track with this, considering we had several interruptions to the routine recently. We did opt to do only a half credit worth of the literature, which means she'll not be reading all the novels assigned. She's definitely on pace with the Lit section, having finished
The Cat of Bubastes
already, and I think the next big piece she'll have to read is
Julius Caesar
. (We've read The Cat of Bubastes before, so this time around we used the Heirloom Audio drama version, which we were able to review here:
An Extraordinary Adventure in Ancient Egypt
)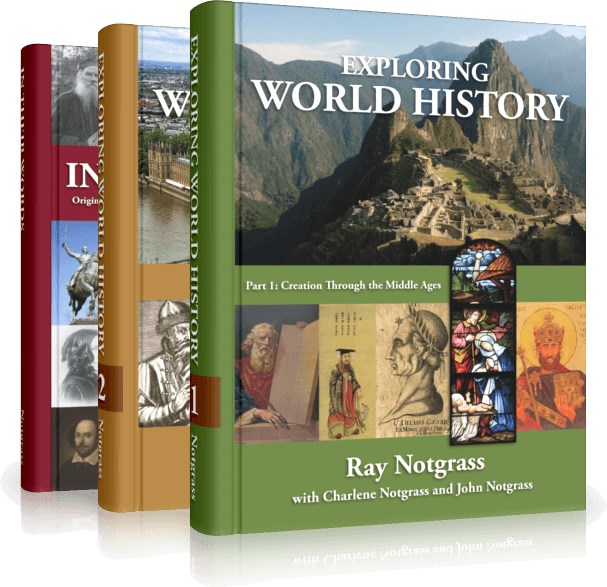 Math
Here's where we're definitely behind pace, to my chagrin. Kennady is using Life of Fred, along with the tutorials from
CTCMath.
Since Math is not even close to being a favorite subject, it's the one she's most likely to "forget" to do if I'm not around to nag. Now that I've realized that I really do need to do a bit of nagging, I guess I'll have to remind her about math every day.
Science
We are using
Biology 101 from Answers in Genesis
this year, and adding some written work from
SchoolhouseTeachers.com
. I thought we'd be a little further along in this, but again, considering the interruptions of the past few weeks, we're not in bad shape at all. Just a little adjustment needed in the pacing and due dates of some assignments, and we should be caught up quickly.
Electives - Co-ops and Classes
Health (BJU Press) - We'd planned to be finished by the end of the first quarter, and she's not quite there. This course is mostly reading and doing the chapter reviews, so it shouldn't take long to finish.
Phys.Ed. - Since Kennady goes to our co-op gym class, she also gets the benefit of socialization as she earns her Phys.Ed. credit. Obviously this is going great, because it's just a matter of getting to class each week and participating, and she enjoys it.
Music - another two credits that are almost pure enjoyment for Kennady! She's in the upper level group in Children's Chorus, which is one full credit in Voice/Choral Singing; and she earns another full credit for her guitar lessons and participating in worship teams at church.
In this photo, she's in costume and singing with the band
at the church Trunk or Treat event.
How about you? Are you on track with your school year, or are there some areas you need to focus on, like we do? Leave a comment and let me know! Then link your posts about homeschooling high school here - I'd love to see what you are working on! Also, please visit your neighbors and leave some encouraging comments!
If you're homeschooling through high school, please join my
Blog Roll.
Don't miss a coffee break!
Subscribe to Homeschool Coffee Break by Email!
©2006-2016 Homeschool Coffee Break. All rights reserved. All text, photographs, artwork, and other content may not be reproduced or transmitted in any form without the written consent of the author. http://kympossibleblog.blogspot.com/