This post contains affiliate links - using affiliate links from Homeschool Coffee Break helps fuel this blog and our homeschool - thank you!
Welcome to another edition of the Virtual Refrigerator! Thank you for joining me and my co-hosts for our weekly art link-up. We all cordially invite you to add your link sharing artwork that's on your Virtual Refrigerator and then hop over to the other blogs and admire what's on their Fridges too!

A couple of weeks ago I made mention of our homeschool group's Christmas craft breakfast, and shared some initial pictures. On today's Virtual Fridge, I'd like to show off the rest of Kennady's projects from that day.


We usually have somewhere in the neighborhood of twenty different craft projects for students to choose from, and they range from Christmas-theme decorations (like wreaths or ornaments) to crafty items that the students can keep or give as gifts. This year Kennady mixed up her own blend of scented bath salts, as a gift for me . . .
and 'painted' a mug to use as a desk accessory for herself. I believe these are done by putting nail polish in water and then dipping the mug or whatever you're decorating into it.
She and a friend arranged ahead of time that they were going to make the same crafts so they could spend the entire time together. Here they are starting work on their mason jar pendant lamps.
Inside is an Edison style LED bulb - pretty neat! Kennady decided to put the white paint that gives it a frosted look only partway up the jar so the bulb would still show a bit.
Her final project was a simply constructed wooden bird feeder. This was a gift for Dad.
Now we just have to hope that we're ready with a camera when the birds discover it!
Now it's your turn! Join us by sharing your art posts here on the Virtual Fridge!
Grab a virtual magnet and add your link here to share your child's art or your arts and crafts how-to posts. Please visit the other blogs and admire what's on their Virtual Refrigerators!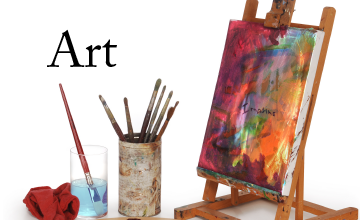 Don't miss a coffee break!
Subscribe to Homeschool Coffee Break by Email!
©2006-2016 Homeschool Coffee Break. All rights reserved. All text, photographs, artwork, and other content may not be reproduced or transmitted in any form without the written consent of the author. http://kympossibleblog.blogspot.com/