This post may contain affiliate links - using affiliate links from Homeschool Coffee Break helps fuel this blog and our homeschool - thank you!
History and Social Studies are, hands down, my favorite subjects. I love ancient history, medieval history, Renaissance history, church history, biographies, geography, folk tales and mythology, cultural studies, comparative religions... and with so many possibilities for things to DO during social studies, I can't imagine confining the subject to just reading a textbook and writing a few tests. Way back when I first started homeschooling, I used textbooks for Social Studies because I really had no idea what to teach and when to teach it. So we spent our first few years learning from the Christian Liberty Press textbook , ABeka textbook, and even Rod & Staff Publications. They were all okay, but were all essentially textbooks to read with quizzes or fill-in-the-blanks. So nothing really exciting. About 9 or 10 years ago now, I read
The Well-Trained Mind: A Guide to Classical Education at Home
, and I loved the idea of teaching history and science in four-year cycles. And teaching history chronologically made so much sense to me! So for a few years, I basically constructed my own History curriculum, cobbled together from all kinds of books, and based mostly on the
The Kingfisher History Encyclopedia
. Eventually I made up notebooking pages (I didn't know that's what they were called, at the time. Nor did I know that I could have, if I'd wanted, bought ready-made notebooking pages!) for the kids. We made a long timeline out of butcher paper at the beginning of every school year and posted it in the stairwell. As we went through the year we added all kinds of significant events that we talked about to the timeline and I think it really helped all of us, myself included, get a great sense of chronology and context with historical events. The library and the internet were great resources, providing us with books and ideas to make our studies very hands-on. When we studied ancient Egypt, we mummified an apple and we made an Egyptian game board. When we studied Chinese history, we tried our hand at Chinese calligraphy and figured out our Chinese zodiac signs. When we studied medieval Europe, the boys each designed a coat of arms and were 'knighted' after they drew up a family code of chivalry. Well... you get the idea. I admit that it was extra work for me to find all the books and activities and recipes, but the truth is, I totally enjoyed it.
Some of my favorite resource books during those years were things like: the
"You Wouldn't Want to Be..." series
from Scholastic; books from the Graphic Library (for example, Lords of the Sea: The Vikings Explore the North Atlantic);
Holidays of the World Cookbook for Students
; and the
Medieval Times Activity Book
. Some of those things I still use when I have the chance.
The past two school years, Spencer and Landon and Kennady studied American history. Yes, we spread it over two years. We started with the explorers who found North America and got as far as the Civil War the first year, and picked up from the Civil War and Reconstruction up to modern day America last year. Along the way we studied each of the states briefly (in the order they entered the union), and did biographical sketches of each of the Presidents. The books I relied on most for American history were:
The American Revolution for Kids: A History with 21 Activities
,
The Civil War for Kids: A History with 21 Activities
, and
Lewis and Clark for Kids: Their Journey of Discovery with 21 Activities
, all by Janis Herbert; and
The American Story: 100 True Tales from American History
by Jennifer Armstrong.
This year, we have come back to a book I used three years ago with all four kids and really enjoyed -
Around the World in 180 Days
. This time around I am working through it with just Landon and Kennady, and we are splitting it into two years. I figured we had had just about enough of North America for awhile, so this school year we have studied Africa and Australia so far, and are currently studying Asia. We will study Europe as well, and leave North and South America for next year. In addition to the material spine offered in
ATW
, we are using a book called
Geography Through Art
; I also use material from
Map Trek The Complete Collection
; outline maps, and notebooking pages (I'm getting lazy - I will buy them now if I can!) from
NotebookingPages.com
. If you've been reading my Weekly Wrap-Ups this school year, you have probably seen the kids with the art projects inspired by
Geography Through Art
. 8-) Starting soon, a friend and I will be teaching a class at our group's co-op based on projects and ideas from the same book. I plan on posting pictures of those too.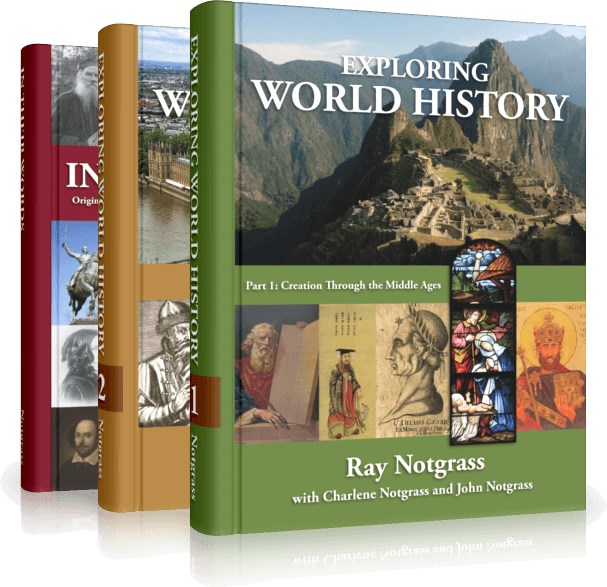 For high school history, Spencer is using
Exploring World History
from Notgrass. Next year he will use
Exploring America
. These texts were recommended to me a couple of years ago and Harrison used them. I think these texts are fantastic, and really can't say enough good about them. When I first came home from a book fair and mentioned it to Harrison, I got as far as "if you do this course, you'd earn 3 full credits-" and he interrupted me with "I don't need to know anything else. I'll do it." He was sold on the concept of one course = three credits. The course is designed to offer one full high school credit in History, one in Bible, and one in Literature. So be aware that there is a lot of reading. However, the texts are well-designed, and well-written, with everything presented from a clear Biblical worldview, and there are lots of options as to how to earn those credits. There is an optional book of comprehension questions for each lesson, and unit quizzes, which we have chosen to use. Because we use those questions and quizzes, I do not assign nearly all the suggested written work in the textbook. The other modification I made was to cut the list of required novels from 13 down to 5 or 6 each school year, and give a half credit for Literature. I still require all the reading from the book (included with the textbooks) of essays, speeches, poems, and excerpts from historical documents. The textbook are divided into 30 units, each unit consisting of five lessons, so the scheduling is incredibly easy. The books are also non-consumable, which means that I bought them for Harrison, now Spencer is using them, and in turn Landon and Kennady will use them as well.
©2006-2015 Homeschool Coffee Break. All rights reserved. All text, photographs, artwork, and other content may not be reproduced or transmitted in any form without the written consent of the author.http://kympossibleblog.blogspot.com/