Yesterday we took a field trip
to the NBC affiliate studios in Baltimore. It had changed a lot since I took the older two boys several years ago. I think that first field trip must have been before I started blogging, so the few pictures I have will be my Blast from the Past for this week.
The outside of the building didn't change at all, as far as I can tell.
We were able to see most of the inner workings of the studios at that visit, including the newsrooms, the radio studios, the editing rooms, etc; but the only place I took pictures was on the news set.
This is the weather desk. We talked to the weather girl for a bit too, and unfortunately I no longer remember her name. I don't have any idea if she is still at that station, but I kind of doubt it.
Spencer pretending to be a news anchor
Harrison's turn
Look how LITTLE they are!!! haha I think they must have been about 10 and 12 years old respectively. They are nearing their 17th and 19th birthdays now.
Here they are sitting on the set they used for the morning news talk show at the time. We were able to sit there and watch the noon news broadcast take place live. It was so interesting! The weird thing about that field trip was that the three of us had the place to ourselves that day. I had arranged for our homeschool group to do this tour, but the station could only take 20 people at a time. The response of interested families from our group was overwhelming, so I arranged to have three groups going on consecutive days. My group went the first day, but it was the last date added to the schedule and only two other families (I think) were planning on going with us. At the last minute both of them cancelled (I think that possibly the weather was sketchy that day) so it was just me and the two boys. But we had fun anyway.
This post is linked to
Debbie's Digest
where you can see other Blasts from the Past, and join us!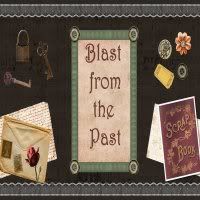 Don't miss a coffee break!
Subscribe to Homeschool Coffee Break by Email!
©2006-2014 Homeschool Coffee Break. All rights reserved. All text, photographs, artwork, and other content may not be reproduced or transmitted in any form without the written consent of the author. http://kympossibleblog.blogspot.com/