It's been so exciting for me to be a part of the TOS Homeschool Review Crew over the past school year. We've been able to try out some great products over the year, and now it's time for the Crew to highlight some of the the favorites with the TOS Homeschool Crew Blue Ribbon Awards. The Crew member votes have been tallied and the winners have been announced!
As the 2011-2012 Crew year comes to a close, we are once again presenting awards to our vendors. The awards are known as the TOS Homeschool Crew Blue Ribbon Awards.
The following vendors are the recipients of the award this year. Click on their name to check out the Crew reviews!
The links will take you to the Crew blog so you can look at all the Crew reviews. For the products that my family reviewed, I've add the link to my thoughts on it here at Homeschool Coffee Break.
Congratulations to all the winners!
Each winning vendor has received this wonderful award to display with pride: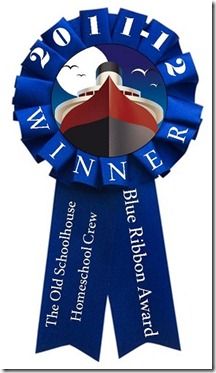 Many Crew Members are blogging about these awards as well. Click below to see what they have to say!
Powered by Linky Tools
Click here
to see the Crew Blog Posts.