Happy Thanksgiving, everyone!
Because it's Thanksgiving, our Think Back Thursday theme invited us to share some Thanksgiving pictures. We are Canadian, so we celebrate Thanksgiving two times every year. (At least two times - sometimes more!) We've been deep-frying turkey for the holiday meals for several years now, and it's become sort of a tradition to take a picture of the procession carrying the bird out to the fryer and putting it in, especially if there is someone with us that hasn't had deep-fried turkey before. This is the official turkey photo from this year's Canadian edition of Thanksgiving.
This was Canadian Thanksgiving 2011.
In 2007, we visited my family in Airdrie, Alberta at the end of November. It turned out that we had our family Christmas on the American Thanksgiving weekend. This is another family tradition that goes back at least to when I was still in high school - when my mom gets up to take the picture of everyone at the dinner table, we all pose with a fork or a glass in our mouths. LOL This used to annoy Mom, but she learned to roll with it. I couldn't tell you how many pictures she has like this one.
And here are the photos from our very first deep-fried turkey for Thanksgiving. I didn't date these, but I'd guess this was November of 2003 or 2004, based on how little Landon is. Because this was the first time we'd deep-fried a turkey, we took pictures of the whole process, not realizing we were starting a tradition!
Just yesterday I remembered to take a picture of the part of the deep-frying process that happens before we go outside to the birdie-boiler - injecting the bird with Creole butter marinade.
I hate to leave the post with a picture of an uncooked turkey! LOL That's just the way it worked out!
Hope you all had a wonderful Thanksgiving, whether you celebrated it Canadian style or American style!
Visit
Debbie's Digest
to join in with Think Back Thursday, and to see what other bloggers are sharing for this week's theme.
Think Back Thursday is a photo meme that encourages sharing something from the past. It is hosted by
Debbie's Digest
. You can find out more about it, and how you can participate, by clicking the link or the button below.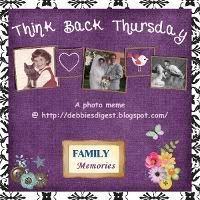 Don't miss a coffee break!
Subscribe to Homeschool Coffee Break by Email!
©2006-2014 Homeschool Coffee Break. All rights reserved. All text, photographs, artwork, and other content may not be reproduced or transmitted in any form without the written consent of the author.
http://kympossibleblog.blogspot.com/