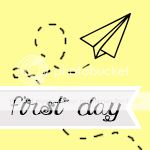 Happy New Year!
The day and year is off to a great start with Tim Hortons coffee!
How much of the list will get done over the year to come?
When I was growing up, we always made these on New Years Eve or New Years Day. I was going to make them this year, but I needed to clean my deep fryer. Boo.
So maybe on the weekend.
Kennady's handprint in a pot of wax.
We decided to go out for my birthday dinner. My birthday was a few days ago but we hadn't really celebrated with our usual dinner out. We went to Applebee's, because I had a birthday coupon for a free entree.... at a specific location, and that's not the location we went to. LOL Oops. My bad. Had to stop at the grocery store for a few things on the way home and chose my all-time favorite grocery store - Wegmans!
I have taken the challenge to read through the Bible in 2013. Many people in our church are doing it. Several of my friends are doing it too. A lot of us are using the One-Year Bible reading app from
YouVersion.com
. It's not too late to start, if you'd like to join in.