Debbie offered us a wide open theme for Think Back Thursday this week - Showers, Rain, Rainbows, Kids Playing in the Rain. I remember taking pictures of my kids playing the rain and in puddles when they were much younger, but I don't have many of those pictures handy these days. I did find a number of pictures of rainbows though. I took these first couple of pictures from my own yard.
This one was a double rainbow for part of the time it was visible, but I couldn't get that to show up in the picture. This one also "landed" right in our backyard, and I can tell you definitely that there is no pot of gold back there. Much to our disappointment!
While on vacation in New Brunswick last summer, we saw this beautiful rainbow over the town of Alma, on the Bay of Fundy.
It's barely visible from the vantage point of the bay itself.
One of the most reliable places to photograph a rainbow has got to be Niagara Falls. We've paid many visits there and always see rainbows over the falls - except during the winter.
Horseshoe (Canadian) Falls, from the Canadian side
American Falls
American Falls

American Falls, seen from the Canadian side
This last one is probably my favorite. It was taken from a park on the Canadian side. You can see the Horseshoe Falls on the right and the American Falls farther away and on the left. And a very bright rainbow hovering in the center.
I have set my rainbow in the clouds, and it will be the sign of the covenant between me and the earth. Whenever I bring clouds over the earth and the rainbow appears in the clouds, I will remember my covenant between me and you and all living creatures of every kind. Never again will the waters become a flood to destroy all life. Whenever the rainbow appears in the clouds, I will see it and remember the everlasting covenant between God and all living creatures of every kind on the earth.
~Genesis 9:13-16~
Think Back Thursday is a photo meme that encourages sharing something from the past. It is hosted by
Debbie's Digest
. You can find out more about it, and how you can participate, by clicking the link or the button below.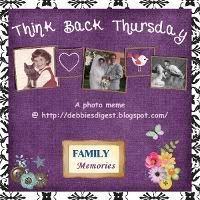 ©2006-2013 Homeschool Coffee Break. All rights reserved. All text, photographs, artwork, and other content may not be reproduced or transmitted in any form without the written consent of the author. http://kympossibleblog.blogspot.com/