With a theme like "vacation" I wasn't sure where to start or how to choose the pictures I could bring to Think Back Thursday this week. I've settled on some from our trip to the Cleveland area in 2010. We had jokingly named that vacation season "The Summer of Harrison" because he had just graduated high school and we gave him a fair amount of influence in where we would go for family vacation that summer. (It's a nod to the "Summer of George" episode too, if you're a Seinfeld fan.) This year is supposed to be "The Summer of Spencer" which has a nice ring to it, I think. But Spencer is not the vacation adventure-seeker that Harrison is, and expressed interest in only a few options. The Summer of Spencer will actually be more like The Autumn of Spencer, as we'll be taking our vacation in October. But more about that later - when we get closer to our travel dates!
The Summer of Harrison was a road trip to Ohio. He wanted to see the
Football Hall of Fame
in Canton, the
Rock and Roll Hall of Fame
in Cleveland, and
Cedar Point
in Sandusky. And lighthouses, if possible. We did stop in Canton for Harrison and DH to visit the Football Hall of Fame. I took the other kids to see a movie - none of us are football fans so spending the money to see something that would bore us to tears seemed silly. Then it was on to Sandusky, and a day at Cedar Point riding as many thrill rides and roller coasters as possible!
Kennady was tall enough to go on quite a few of the coasters!
We ended that day at a local eatery recommended for its Lake Erie Perch, which happens to be a favorite of ours.
We visited the Rock and Roll Hall of Fame in Cleveland. Once we were inside there were few places that pictures were allowed, so I only have outside shots.
And these fun magazine cover shots that we paid an arm and a leg for, but I thought it was worthwhile! LOL
One last stop at a Lake Erie beach before heading home.
Debbie's Digest for Think Back Thursday.
Visit
Debbie's Digest
to join in with Think Back Thursday, and to see what other bloggers are sharing this week. Upcoming themes include: Summer; Purple; Black and White (an old photo in black and white, or one tweaked by a photo editor); Extended Family.
Think Back Thursday is a photo meme that encourages sharing something from the past. It is hosted by
Debbie's Digest
. You can find out more about it, and how you can participate, by clicking the link or the button below.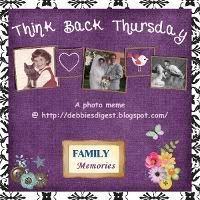 ©2006-2013 Homeschool Coffee Break. All rights reserved. All text, photographs, artwork, and other content may not be reproduced or transmitted in any form without the written consent of the author. http://kympossibleblog.blogspot.com/