I was starting to worry about what I might find to post that was Purple. Purple has never been a favorite color here, and although I'm sure Kennady had purple outfits when she was a very little girl, I couldn't find many pictures featuring those. So I simply browsed through my older photos until I spotted a couple of things. It was slim pickings. I noticed that Aladdin was wearing a purple vest when we met him at Disney World.
Kennady was wearing a purple t-shirt in this picture at a Delaware beach.
This rainbow picture has some definite purple in it.
There are purple flowers at my husband's greenhouse sometimes, but apparently none in my yard.
I wasn't having much luck. And then it hit me - Kennady's softball team colors are Purple and Black!
Silly girl with the game ball she earned last season. She turned a double play that game.
I guess I like purple after all! My beautiful softball-player daughter rocks the purple uniform!
This post is linked at:
Debbie's Digest for Think Back Thursday.
Visit
Debbie's Digest
to join in with Think Back Thursday, and to see what other bloggers are sharing this week. Upcoming themes include: Black and White (an old photo in black and white, or one tweaked by a photo editor); Extended Family.
Think Back Thursday is a photo meme that encourages sharing something from the past. It is hosted by
Debbie's Digest
. You can find out more about it, and how you can participate, by clicking the link or the button below.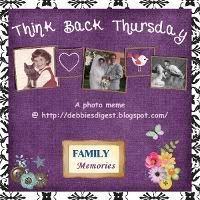 ©2006-2013 Homeschool Coffee Break. All rights reserved. All text, photographs, artwork, and other content may not be reproduced or transmitted in any form without the written consent of the author. http://kympossibleblog.blogspot.com/