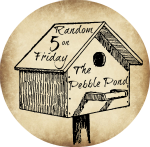 Welcome to another edition of Random 5 on Friday!
Our second week of school was reasonably successful, so we're about to take a break! First school vacation just two weeks into the year - not a bad deal!
Kennady started writing out her math problems and filling in tables in her geography activity book using "Dwarvish-style" writing. I have to admit it looks beautiful, and is easier to read.
Smoked brisket smells heavenly when it is finishing in a slow oven overnight. However, the delicious smell distracts me a little, and makes it hard to sleep. LOL We smoked a beef brisket last night and will be serving it for dinner tonight. If it tastes half as good as it smells... Mmmm....
I'll be facilitating a small group studying the material presented in the movie "Captivated" starting in mid-September. Looking forward to it, but a little nervous as well.
I finished the book Michal this week. You can read my review on my book blog, Just A Second. I liked it well enough that I'd like to read the others in that series.
Don't miss a coffee break!
Subscribe to Homeschool Coffee Break by Email!
©2006-2014 Homeschool Coffee Break. All rights reserved. All text, photographs, artwork, and other content may not be reproduced or transmitted in any form without the written consent of the author. http://kympossibleblog.blogspot.com/