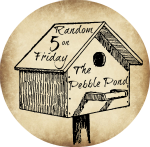 I am finally home on a Friday so I can do a Random 5 on Friday post!
Surprisingly, we managed to stay more or less on track for school over the last couple weeks, even through all kinds of distractions and interruptions.
Landon will receive his first paycheck from his seasonal job today... and it's his last day of work for the season. Perfect timing!
I've had the same load of laundry hanging out on the line for at least three days. I think this is Day Four. Either it rains, or it gets dark, and then I figure I'll just leave it until it dries or until morning. Of course no one else in the family thinks to bring it in. *sigh*
I'm reading through the Bible chronologically again this year. I recently finished Ezra and Nehemiah. These stories fascinate me because of the commitment and respect shown for the Word of God. These people stood for hours and hours listening to the Law read and explained to them, and then rejoiced and worshiped. And the celebration they had when the wall was built - wow!
And they offered great sacrifices that day and rejoiced, for God had made them rejoice with great joy; the women and children also rejoiced. And the joy of Jerusalem was heard far away. ~Nehemiah 12:43
<--- That's supposed to be a 5. I messed up the numbered list formatting by inserting the quote and I don't feel like fixing it. Actually, I don't know how. So, really you're getting at least six random things for the price of five today. But what I meant to say here is this: I've been doing a bit more reading lately, although I probably have too many books going at one time. Kind of goes along with my time management problems, I guess - too much stuff going on makes it hard to focus and get any of the stuff done. You can see what I'm reading, and my thoughts on books I've finished at my book blog, Just A Second.
Don't miss a coffee break!
Subscribe to Homeschool Coffee Break by Email!
©2006-2014 Homeschool Coffee Break. All rights reserved. All text, photographs, artwork, and other content may not be reproduced or transmitted in any form without the written consent of the author. http://kympossibleblog.blogspot.com/