This post may contain affiliate links - using affiliate links from Homeschool Coffee Break helps fuel this blog and our homeschool - thank you!
In our homeschool...
I took it pretty easy on Kennady this week - the last week before we 'officially' go back to school - and Landon wasn't even home. Kennady has continued reading the Mark Twain book
Puddin'head Wilson
as part of the
Illuminating Literature curriculum from Writing with Sharon Watson
that we'll be reviewing in a couple weeks. I was surprised that she didn't finish the book sooner, but I guess she was just taking her time and enjoying the relaxed atmosphere this week. She did work pretty hard on this week's art project for our
Artist Studies August post on the Virtual Refrigerator,
and I thought her paintings turned out beautifully!
Birch Grove with Blossoms by KAT, 2015
Birch Grove in Autumn by KAT, 2015
Birch Grove in Winter by KAT, 2015
Without Landon home, and with Kennady taking a break, we didn't do much with
Stinky Kids Math
this week, but we're looking forward to exploring that resource more starting Monday, so we can bring you a full review in a few weeks. Something else we'll start on Monday is a book and study about C.S.Lewis from
YWAM Publishing
. That's also for an upcoming review for the Schoolhouse Review Crew.
I did a lot more in the way of schoolwork than Kennady this week, because I am putting finishing touches on lesson plans - or at least the first month or two of plans - so we'll have assignment lists and schedules and such ready to go on Monday morning. I'm primarily using
Homeschool Tracker Online
- and I'll be sharing a full review of this great lesson planning tool next week!
In other news...
on Sunday, the hubster and I got to enjoy an evening out together. We headed to Frederick where there was a free concert in the park - an Irish rock band! The weather was great for an outdoor concert and we had a good time, and went to one of our favorite date spots afterwards too - the Wegman's grocery store! It's funny how many of our dates include either Wegman's or Lowe's.
beautiful evening at the park!
On Wednesday morning I attended our homeschool group's reviewers brunch, and managed to get some shopping done afterwards. Other than that, it was a quiet week at home with Spencer working most days, and Landon away at camp. Kennady and I had the place to ourselves! And she went to a birthday party overnighter on Thursday and Friday, so I really felt alone. Today Spencer is working as well, and the hubster is playing in a weekend hockey tournament, so it's another quiet day.
Things that made me smile...
we all went out on Wednesday night and watched the meteor shower for a bit. I'm so glad we live in an area far enough from town that we have excellent conditions for stargazing and enjoying the beauty of the night skies.
34 Weeks of Clean...
I had been participating in a weekly challenge and link-up at
Family, Faith, and Fridays
and we were to be working on the garage this past week. Well, our garage needs much more than a week's worth of work, but we have been tackling that over the past few weeks and have made some progress. Our garage has a second story, unfinished, that has been a storage area for all kinds of stuff over the years that we've lived here. It started out with some semblance of order, but sure didn't stay that way! We've been working on getting that second floor sorted out and getting rid of as much of that stuff as we don't really need. Which is a lot of it. It's definitely improved.
Well, THIS half of the upstairs in the garage is clean!
We had also set aside part of the main floor in the garage to put items that we plan to get rid of in an upcoming yard sale at church. Having it all together will make it easier to load it all up and know just how much space we'll need.
For Week 33, the assignment is The Cars! Yay! This one will be easy for us! And there's only one week left in the Challenge, so even though I didn't keep up every week, I still feel pretty good about how much we got done! For the details of this week's assignment, go to
Family, Faith, and Fridays
.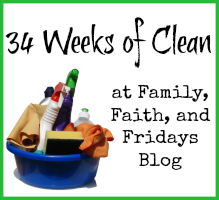 I recommend...
SchoolhouseTeachers.com -
and yes, I always recommend this website for homeschool curriculum and resources at a great price, but with the Back to School special pricing that will be offered from August 17 through September 21, it's an even better deal! Buy a one-year membership and get a second year free - two years for just $139.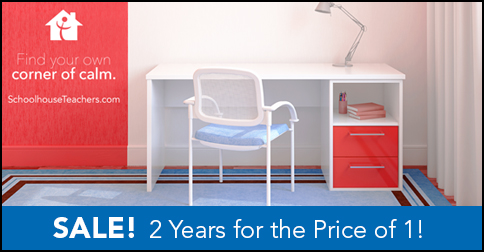 On my blog this week...
five
Back To Homeschool Blog Hop posts
plus an Artist Study:
Back to Homeschool with Possibilities
Back to Homeschool Past and Present
Back to Homeschool with Pencils, Papers, and Programs
Back to Homeschool with a Plan
Back to Homeschool with a Purpose
Virtual Refrigerator - Gustav Klimt
On the bookshelf...
The Fatal Tree (Bright Empires)
by Stephen R Lawhead
Summer of Promise
by Amanda Cabot
The Potter's Lady
by Judith Miller
Murther and Walking Spirits
by Robertson Davies
This week I finished
Anne of Green Gables
by L.M. Montgomery,
Lady Maybe
by Julie Klassen,
Swept Away
by Vanessa Riley and reviewed them all on my book blog,
Just A Second.
A parting shot...
What happens when I leave a tub of disinfecting wipes unattended and Kennady has a sharpie at hand...

Don't miss a coffee break!
Subscribe to Homeschool Coffee Break by Email!
©2006-2015 Homeschool Coffee Break. All rights reserved. All text, photographs, artwork, and other content may not be reproduced or transmitted in any form without the written consent of the author. http://kympossibleblog.blogspot.com/