This post contains affiliate links - using affiliate links from Homeschool Coffee Break helps fuel this blog and our homeschool - thank you!
Welcome to another edition of the Virtual Refrigerator! Thank you for joining me and my co-hosts for our weekly art link-up. We all cordially invite you to add your link sharing artwork that's on your Virtual Refrigerator and then hop over to the other blogs and admire what's on their Fridges too!
This week may be the busiest of our holiday season. Maybe it's a good thing to get it out of the way early in the season! One of the things that has been taking up our time this week is the latest art project - another backdrop for a kids' Christmas play at church. Kennady did her first backdrop last year, and did such a great job that we knew she'd be tagged for the task for every year afterwards! However, this year the project is a little different - the piece needs to be much bigger, for one thing, and it's also more utilitarian, for lack of a better description. This year's play is set in a 1970s radio station, so the backdrop needs to help set that scene. With the information she had to work with, Kennady made a preliminary sketch that includes lots of ideas for elements to include.
Study for backdrop, KAT - November 2016
We knew the dimensions for the finished piece, but once we actually saw the canvas laid out on the floor, we realized just how big it really was, and how much painting would be involved. So then Kennady could decide which elements from her sketch were essential, and how much we would simplify. Obviously the record shelves and recording equipment were optional, so they will not be part of the finished design. Time is not our friend at this point either! Especially since we also had the prep work on the canvas to do. That happened yesterday - the canvas was laid out on a tarp in a room at church that was recently gutted for a renovation. Worked out nicely because there's a space where it can be laid out and will be undisturbed until it's finished and the paint is dry; and there are no worries about getting paint on floors or walls!
We're glad for design and technique advice from a good friend, and for the help of several friends to get the primer on that canvas. In fact, last night when just the last few square feet of canvas needed to be painted, I snapped this picture of the team and it made me think of the story of Tom Sawyer convincing a bunch of neighborhood buddies to help him whitewash the fence!
Wish Kennady luck as she transfers some outlines of her design onto the canvas and gets the colorful part of the painting done! It needs to be complete - and dry! - for Wednesday's performance of the play. And we have several other things on our calendar to work around, so it will be a challenge.
Just for fun, here's the study and a picture of the prep work from last year's backdrop. You can see the whole post here:
Virtual Refrigerator - Christmas Art: Christmas in Kid City Skyline
Study for backdrop, KAT - December 2015




Now it's your turn! Join us by sharing your art posts here on the Virtual Fridge!
Grab a virtual magnet and add your link here to share your child's art or your arts and crafts how-to posts. Please visit the other blogs and admire what's on their Virtual Refrigerators!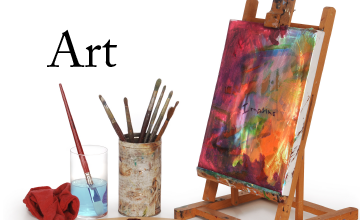 Don't miss a coffee break!
Subscribe to Homeschool Coffee Break by Email!
©2006-2016 Homeschool Coffee Break. All rights reserved. All text, photographs, artwork, and other content may not be reproduced or transmitted in any form without the written consent of the author. http://kympossibleblog.blogspot.com/