This post contains affiliate links - using affiliate links from Homeschool Coffee Break helps fuel this blog and our homeschool - thank you!
Welcome to the Virtual Refrigerator art link-up! Thank you for joining us as we share what we're creating in our homeschools. We cordially invite you to add your link sharing artwork that's on your Virtual Refrigerator and then hop over to the other blogs and admire what's on their Fridges too! The Virtual Fridge link-up is open all month, with anchor posts planned for each Wednesday.
Yesterday was our first official day back to homeschool, and so of course we needed first day pictures. A lot of our first day pictures over the years have been taken in the same spot - student on our living room sofa, with a sign indicating their grade - and for the past few years Kennady has made her own sign. This year she tried making it with some decorative lettering, so that's what is on my Virtual Fridge today.
First Day of 11th Grade by KAT, September 2017
She also did a beautiful piece of artwork yesterday, which I'm saving for next week's Fridge!
Also, I'm happy to announce that we'll be welcoming a new Virtual Refrigerator hostess very soon! I'm aiming to have an updated button and graphic for next week when we can introduce her to you!
Now it's your turn - join us by sharing your art posts here on the Virtual Fridge, and please grab our button for your post to help spread the word!
Grab a virtual magnet and add your link here to share your child's art or your arts and crafts how-to posts. Please visit the other blogs and admire what's on their Virtual Refrigerators!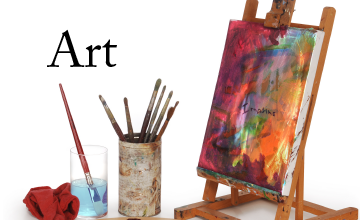 Don't miss a coffee break!
Subscribe to Homeschool Coffee Break by Email!
©2006-2017 Homeschool Coffee Break. All rights reserved. All text, photographs, artwork, and other content may not be reproduced or transmitted in any form without the written consent of the author. http://kympossibleblog.blogspot.com/