This post contains affiliate links - using affiliate links from Homeschool Coffee Break helps fuel this blog and our homeschool - thank you!
Welcome to the Friday Favorites edition of Homeschool Highlights, part of the 5 Days of Homeschool Encouragement Blog Hop! If you're new to my blog, I usually host a weekly wrap-up link-up called Homeschool Highlights on Friday. Since it's also Blog Hop week, I'm doing a mash-up of my Friday Favorites for the hop and Homeschool Highlights. The question I'll answer a little further down in this post is:
What Are Your Favorite Homeschool Tools and Resources?
Welcome to Homeschool Highlights!
This weekly link-up is your opportunity to share some highlights of what is happening in your homeschool and in your world each week. If you write a wrap-up post at the end of each week, like I've been doing, we'd love to see what you're busy with from week to week. If you'd like to pick a favorite post from your week that spotlights a resource or activity in your homeschool that you'd like to tell others about, we're interested in those too. I'm keeping the guidelines as simple as I can, and they will appear at the bottom of each post, along with the link tool. I look forward to getting to know you, and I hope this will be a source of encouragement and good ideas for all of us.
Homeschool news . . . We're trying - a little half-heartedly, I admit - to adjust to a school schedule so we'll be ready come September. It's a bit difficult, since we're not entirely sure what Kennady's work schedule will be. What I do know is that we'll need to be out of the house way too early on co-op days. Algebra and French are coming along and I have high hopes that we'll be ready to dive into school in just over a week!

The homeschool oversight group's meeting is this evening, and sadly, I'm missing my son's company picnic to attend!
Other news . . . There isn't much else to tell this week. We are busy working and trying to get caught up with housework and yardwork. We're making some vacation plans, and attempting to have everyone in the family help out a bit more with meal prep and planning. So far, it's working out okay, but stay tuned!

******************************************************
Homeschool Favorites . . .
okay, the must-haves and all-time favorite homeschool things for this year:
I don't know where I'd be without Homeschool Tracker Online!
It's one of the most valuable tools in my homeschool and I've relied on it for years! I do use pen and paper for lesson planning, but the Tracker is where I keep track of everything else once I've mapped out the initial plan. The lesson plans go into the Tracker and are scheduled into the assignment calendar. I print out the assignment lists as needed throughout the year, and adjust due dates as needed too. All the grades and hours spent are recorded, as well as a detailed list of resources. I produce report cards using the Tracker, and if my homeschool oversight group wasn't providing our transcripts, I could do a professional transcript using
Homeschool Tracker Online
.
(Read my full review of
Homeschool Tracker Online
here
:
Homeschool Tracker Online: A Homeschool Coffee Break Review
.)
Exploring World History
and
Exploring America
(both from
Notgrass
) have been long-time favorites of ours, with all three of my boys using both of them during their high school years. Kennady also studied Exploring World History, and in this school year, she'll be doing Exploring America in our co-op. We love that these courses combine History, Bible, and Literature, and can be worth three full credits; although we have always pared down the Lit requirements and awarded a half credit.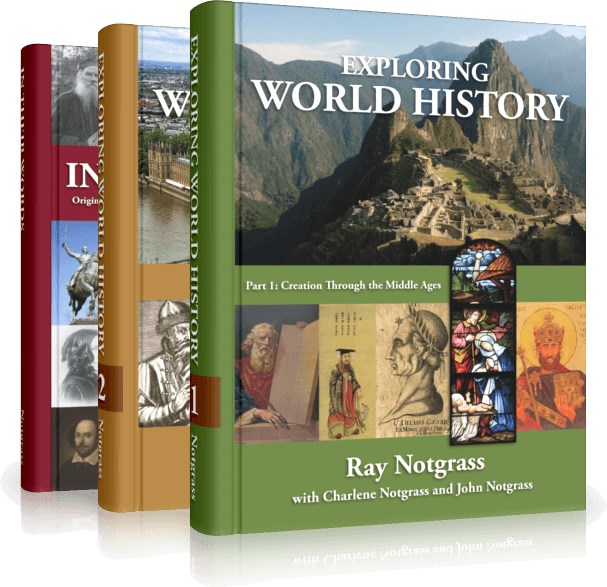 We also love
Writing with Sharon Watson
! Last year we did
The Power in Your Hands
in the co-op, and I was the instructor. That class was a lot of fun to teach, and not difficult, because the textbook lent itself to a small class setting very well. So well that it was a natural choice to do
Writing Fiction [in High School]
at co-op this year! Kennady is excited about doing a credit class on fiction writing, and I get to be stretched a little in teaching it!
A couple things from previous years that I want to highlight:
We have loved everything we've tried from Institute for Excellence in Writing! Most recently, we explored the
the
updated
High School Essay Intensive.
In this essay writing workshop, students focus on developing skills they'll need for college. Not just for college level writing, but also for writing the essay portions of the SAT and ACT, and even for writing the kinds of biographical essays that accompany college applications. I'm pretty sure we'll revisit that this year as we consider Kennady's college options. A few years ago we reviewed and used
Student Writing Intensive Level C, along with Fix-It! Grammar
. At that time, Landon was finishing up Grade 10 and Kennady was finishing Grade 8. They both used the Writing Intensive course, and Kennady used Fix-It! Grammar. Kennady and I also reviewed
Linguistic Development through Poetry Memorization
. This is an easy-to-use system of memorizing poetry, along with some excellent information about how and why to do so. We set it aside, but it's the kind of course that can be a fun add-on, and I can see us playing with it again during this year.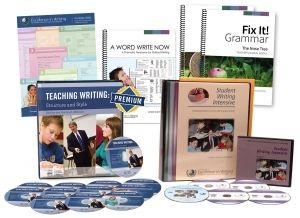 No-Nonsense Algebra
from
Math Essentials
saved our bacon when it came to Algebra. This course was straight-forward, and truly no-nonsense, presenting the needed lessons in a clear and concise way that Landon could move through quickly when he did the course a number of years ago, and that Kennady (who doesn't intuitively understand math and algebra the way Landon did) could handle without being overwhelmed.
Co-op classes have turned out to be a favorite thing! Last year I was able to hand off French to an experienced tutor so she could learn a second language together with other students. She was also able to take a class in Public Speaking and Presentation that turned out to be her favorite, even though she was reluctant at the beginning. I taught the Non-fiction Writing class, and it was so helpful to have firm deadlines for every writing assignment that I had to enforce. That's one of the great benefits (for us anyway) of co-op - a schedule that we have to stick to. So this year we're back at the co-op, with Kennady taking second year French and second year Speech and Presentation. She'll also be doing Fiction Writing and American History at the co-op, and I will be teaching those classes. Again, the firm deadlines and positive peer pressure will be a benefit!
I seriously could not homeschool without the internet and the many online resources available today! One bears special mention because of how much it offers -
SchoolhouseTeachers.com
. We plan on using the course
Money 101: Seminars in Personal Finances
this year, and maybe will find time to putter about in some of the other 400 or so courses, even though we can't take the time to do any other course in its entirety. If this one interests you, do check this out before the end of August, because there's a BOGO special with lots of extra goodies thrown in.
Post-It Notes
- I absolutely love post-it notes of all shapes and sizes. Also colored paper clips. I know, it's weird, but those are my favorite school supplies!
And a new favorite school supply that I love -
Colored Lead Mechanical Pencils
! I'm so happy these are a thing!! I found a set last year and thought they'd be perfect for doing editing and proof reading marks on the papers I was grading for the writing class. They were. And I felt like I needed more of them. I stocked up a couple weeks ago and can hardly wait to write little notes to my students in bright colors. Wow, I need help.
Use the linky tools to visit the other participating bloggers, or start with these:
Christine @
Christine Howard
Christy @
The Simple Homemaker
Dawn @
Schoolin' Swag
Debra @
Footprints in the Butter
Diana @
Homeschool Review
Felicia @
Homeschool 4 Life
Jacquelin @
A Stable Beginning
Jeniffer @
Thou Shall Not Whine
Jennifer @
A Glimpse of Our Life
******************************************************
On my blogs last week . . .
Here on Homeschool Coffee Break:
What Are You Thankful For this Homeschool Year?
Virtual Refrigerator - Never Grow Up
How Do You Fit Electives Into Your Homeschool Schedule?
What Curriculum Are You Using in Your Homeschool?
How Do You Stay Motivated When Homeschooling is Hard?
Wordless Wednesday - Back to School
Teaser Tuesday/First Chapter First Paragraph - Fawkes
What I'm Reading - August 20, 2018
Scripture and a Snapshot - A Hope and a Future
Just A Second
is where I share book reviews and other book-related things, and update on what's on my bookshelf. This week I've been reading:
Fawkes: A Novel
by Nadine Brandes
Treacherous Is the Night (A Verity Kent Mystery)
by Anna Lee Huber
Grab the button and link up with Homeschool Highlights!
Homeschool Highlights guidelines:
Your blog should be family-friendly content, and your post should include something about homeschooling.
Please link directly to your post, not your blog's homepage.
Please include a link in your post to Homeschool Coffee Break - you may use the graphic above if you wish.
Visit a couple of the other bloggers and comment or share.
I will be linking up my own posts at the following weekly link parties that you may also be interested in: Weekly Wrap-Up hosted by
Weird, Unsocialized Homeschoolers
.
Don't miss a coffee break!
Subscribe to Homeschool Coffee Break by Email!
©2006-2018 Homeschool Coffee Break. All rights reserved. All text, photographs, artwork, and other content may not be reproduced or transmitted in any form without the written consent of the author. http://kympossibleblog.blogspot.com/
We are a participant in the Amazon Services LLC Associates Program, an affiliate advertising program designed to provide a means for us to earn fees by linking to Amazon.com and affiliated sites.