This post contains affiliate links - using affiliate links from Homeschool Coffee Break helps fuel this blog and our homeschool - thank you!
Happy Thanksgiving!
Yes, today is Thanksgiving in Canada, and as part of our family's celebration, I am offering a quick history lesson about it.
In the United States, the second Monday of October is designated as Columbus Day, and Christopher Columbus is certainly an excellent topic for a High School Lesson Book History Lesson as well! But since we are Canadian, our Thanksgiving holiday is foremost in our minds. In Canada, Thanksgiving is celebrated on the second Monday of October, which has been the official date since January 31, 1957, when Parliament proclaimed:
A Day of General Thanksgiving to Almighty God

for the bountiful harvest with which Canada has been blessed – to be observed on the 2nd Monday in October.
Earlier, in 1879, Parliament had declared November 6th as a day of Thanksgiving and a national holiday. Over the years, many dates were used for Thanksgiving but a Monday in October was generally the most popular choice. After WWI, Armistice Day and Thanksgiving were both celebrated on the Monday of the week in which November 11th occurred. Then in 1931, the two holidays were observed separately as Armistice Day was renamed Remembrance Day (which Americans observe as Veterans Day). And finally, thanks to that proclamation in 1957, Thanksgiving Day has been established in October.
Historians believe the first Thanksgiving in Canada was celebrated in what is now the province of Newfoundland, in 1578. The English explorer Martin Frobisher celebrated his expedition's safe arrival after the long journey across the Atlantic Ocean with a formal ceremony. Then they pressed on westward, in search of a Northwest Passage to the Orient.
Another historical Thanksgiving celebration in Canada took place just a few years before the Pilgrims celebrated the first Thanksgiving in what would become the United States (which was in 1621). French settlers who had come to Canada with explorer Samuel de Champlain held huge feasts to give thanks for their safe arrival. During the winter of 1606-1607, they formed
"The Order of Good Cheer",
a society to provide good food and good times to keep up the morale of the men during that long winter. Members took a turn at being "Chief Steward" and being responsible to see that everyone at the table was well provided for. The duties were taken very seriously, by hunting and fishing to add to the banquet, and making sure to present each dish with a good deal of pomp and ceremony. At the end of the day, the Chief Steward would present the collar of the Order and a cup of wine to his successor, and they would toast each other before closing with a prayer of thanks to God. Chiefs and members of the local native tribes were frequent honored guests.
Samuel de Champlain
After the Seven Year's War ended in 1763, The people of Halifax, Nova Scotia, held a special day of Thanksgiving to mark the end of the Seven Year's War in 1763. And as more settlers arrived in Canada from France, Scotland, Ireland, Germany, and other European countries, they brought their harvest celebration traditions to add to the mix. United Empire Loyalists who came to Canada during the time of the American Revolution also brought some of their traditions with them, including the turkey dinner.
So that means a traditional Thanksgiving feast in Canada will most likely feature turkey, and most of the other dishes that are usually associated with a traditional Thanksgiving meal in the United States. Thanksgiving is, of course, a favorite time for families to get together, so the meal could also include favorite dishes from the family's ethnic heritage. I think some dishes are generally a little different - for instance, Canadians tend to prefer bread stuffing, while the American preferences for stuffing tend to be the regional favorite.
Just like our American neighbors, Canadians love to take in a football game on Thanksgiving Day. For us it's the
Canadian Football League
's Thanksgiving Day Classic, but there are certainly a lot of NFL fans in Canada as well, so many of them will also look forward to Monday Night Football.
Go Stamps! (had to put in a little shout-out to my hometown team!)




This year, our family will be postponing our full Thanksgiving dinner and celebration until Friday. We have appointments and some other commitments today, and in order to be able to invite some friends to join us, we decided Friday would work out just as well. However, if we can find that Thanksgiving Classic football game to watch, we probably will. And we'll be thankful that the Blue Jays won their series yesterday, and for many other blessings far more personal.
Want to learn about American holidays, like Columbus Day?
SchoolhouseTeachers.com
has
History of Holidays in America.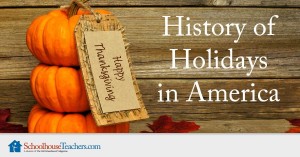 Or more about Canada? Check out the
Everyday Explorers - Canada
unit at
SchoolhouseTeachers.com
.
What are you celebrating today? And what are you studying in History? Leave a comment and let me know! Then please link your posts about homeschooling high school here - I'd love to see what you are working on! Also, please visit your neighbors and leave some encouraging comments!
This post is part of the
October 2019 Homeschool Collection
on the
Homeschool Review Crew blog.
Don't miss a coffee break!
Subscribe to Homeschool Coffee Break by Email!
©2006-2019 Homeschool Coffee Break. All rights reserved. All text, photographs, artwork, and other content may not be reproduced or transmitted in any form without the written consent of the author. http://kympossibleblog.blogspot.com/
We are a participant in the Amazon Services LLC Associates Program, an affiliate advertising program designed to provide a means for us to earn fees by linking to Amazon.com and affiliated sites.