Sometimes a review opportunity comes along that meets a need we just happen to have at the time, and that was the case when we had the chance to try out
Nature's Beautiful Order
from
Memoria Press
. It just so happened that we'd recognized our need for a supplement to our Science study that would provide some reading and some written work, so I decided we'd see how this resource worked to fill that need.

Memoria Press
is a well-known and respected name in homeschool publishing. It's a family-run company that produces easy-to-use classical Christian education resources. Many homeschoolers are familiar with them for their Latin instruction materials, but they offer materials for many other subjects as well, all from a classical Christian viewpoint.
We received the biology textbook and student guide
Nature's Beautiful Order
. It's intended for students in 6th through 9th grades, or as a supplement to a high school biology study. There are eighteen lessons guiding the students through the animal kingdom from invertebrates through vertebrates using the natural order observed by classical naturalists. The set includes: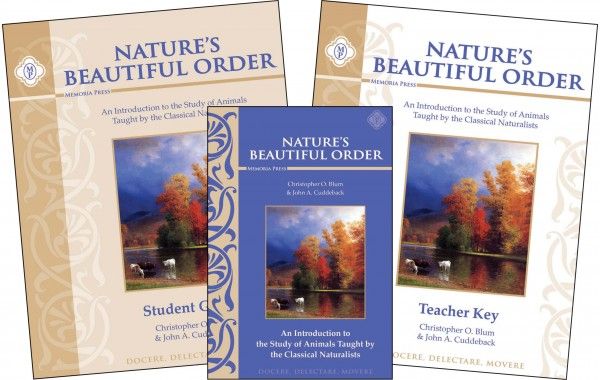 How did we use it?
As I said, we needed something to round out our existing high school biology study, so that's how we approached this. The biology course we've been using suggests additional reading, but leaves the choice up to us. Likewise with the writing assignments. I felt that we needed something for that reading and writing that was more structured and self-contained, so that I didn't have to hunt down library books about various biology subjects and then have to come up with an accompanying writing assignment. Instead, we chose to read the corresponding chapters in
Nature's Beautiful Order
and answer and discuss some of the comprehension questions in the Student Guide. This did provide a good supplement for our coursework.
We did not read the chapters in order, but skipped around a bit, following the order of animals presented in our textbook. Of course, this made it harder for us to recognize the 'natural order' of the animals in the order they're presented in the book, but overall I didn't feel that it made the book more difficult to follow.
I assigned the chapters for reading and expected Kennady (who is in tenth grade) to do the reading on her own. I asked her to answer the questions in the Student Guide as best she could on her own, and if she was stumped on any of them, we'd figure those out when we discussed the questions. This worked out very well for us, although Kennady found the reading a bit dry in places, and had to get used to a much different writing style than she had been used to. The reading level for the textbook is intended primarily for students in Grades Six through Nine, and I would say for advanced readers in that age group. It did present a bit of a challenge at times for my tenth grader, who reads very well, but still found herself needing to re-read passages for comprehension. I believe that was due to style more than to the actual difficulty.
We went over the questions in the Student Guide together, and I encouraged her to write down answers as much as possible, but we often just discussed the answers and I didn't make her write something down in every blank. She tends to keep her answers as short and to the point as possible!
Teacher Key on the left and Student Guide on the right
We're going to continue to use this as a supplement as we finish off the last bit of our Biology study for the year! It's saved us the time and effort of looking up suitable additional reading, and provides excellent descriptions of the anatomy of the animals. There are only a few illustrations or diagrams, however, which would have been even more helpful, especially for a visual learner. For example, there were no illustrations at all in the chapter on the cuttlefish, and since Kennady had never heard of a cuttlefish before she had a difficult time visualizing what was being described, until she'd searched the internet for a picture. The Student Guide provides a check for Kennady's understanding of what she's read, and gives her a written record of what she's studied.
What we liked best:
straight-forward, uncluttered presentation. Good for students that get distracted by too many graphics or decoration.
very easy to use - open and go. Students in the upper grade range or who are proficient readers should be able to work quite independently.
Teacher Key is very clear and contains the entire text that is in the Student Guide, making it very easy to follow and grade student work.
What I need to mention:
although I said we liked the clean and uncluttered presentation, we would have appreciated a few more diagrams to clarify. Especially if you have a visual learner, like mine, you will probably want to take the time to search out some of the diagrams, illustrations, or photos to aid understanding.
some students, especially those unfamiliar with the classical education style, may have trouble understanding the writing style.
Our bottom line:
This is definitely not something we'd normally have in our homeschool line-up of curriculum, but it certainly is filling a need for us at this time, and I'm glad we had the chance to try it out. Thanks to lucky timing, we're able to really make the most of this high quality textbook from Memoria Press, and can recommend it to classical homeschoolers, and suggest that those who don't consider themselves classical style homeschoolers give
Nature's Beautiful Order
and other resources from Memoria Press a look.

Would you like to discover more about the beauty and order of nature? Here's what you need to know: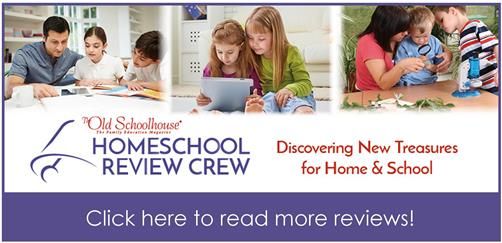 Don't miss a coffee break!
Subscribe to Homeschool Coffee Break by Email!
©2006-2017 Homeschool Coffee Break. All rights reserved. All text, photographs, artwork, and other content may not be reproduced or transmitted in any form without the written consent of the author. http://kympossibleblog.blogspot.com/
I have done my best to provide accurate pricing and links at the time this post originally appeared. Please be aware that these may change.