This post contains affiliate links - using affiliate links from Homeschool Coffee Break helps fuel this blog and our homeschool - thank you!
Welcome to the Virtual Refrigerator art link-up! Thank you for joining us as we share what we're creating in our homeschools. We cordially invite you to add your link sharing artwork that's on your Virtual Refrigerator and then hop over to the other blogs and admire what's on their Fridges too! The Virtual Fridge link-up is open all month, with anchor posts planned for each Wednesday (although during the summer, that may not always happen!).
My artist is away this week and we've been on summer break so today I'm sharing an art project from several years ago.
We started with blackline world maps, which we labelled and colored. Then we tore the edges, folded the maps up as small as we could, and sharply creased the folds. We hoped to give the maps a well-used and somewhat tattered look.
After unfolding the maps, we placed them in a tray and covered them in strong tea.
After a good soaking with the tea, and while the paper was still wet, we crumpled the maps and allowed them to dry overnight. In the morning we gently flattened them out. The tea stained the paper where it hadn't been colored, making it look aged. This might have worked better with a different kind of paper that would have soaked up the tea better - we used regular copy paper.
And finally, we "painted" the maps with a thin coat of vegetable oil. After that had dried, the maps looked aged and brittle. We mounted them on construction paper to display on our timeline wall.
Now it's your turn! Join us by sharing your art posts here on the Virtual Fridge, and please grab our button for your post to help spread the word! (Updated grab button is coming soon - thanks for your patience!)
Grab a virtual magnet and add your link here to share your child's art or your arts and crafts how-to posts. Please visit the other blogs and admire what's on their Virtual Refrigerators!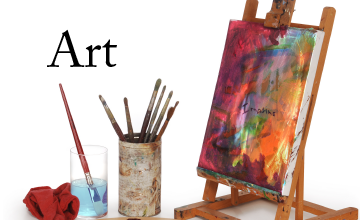 This post is part of a Coffee & Conversation Link Party at
PatAndCandy.com
- Join us!
Don't miss a coffee break!
Subscribe to Homeschool Coffee Break by Email!
©2006-2017 Homeschool Coffee Break. All rights reserved. All text, photographs, artwork, and other content may not be reproduced or transmitted in any form without the written consent of the author. http://kympossibleblog.blogspot.com/