This post contains affiliate links - using affiliate links from Homeschool Coffee Break helps fuel this blog and our homeschool - thank you!
Welcome to the Virtual Refrigerator art link-up! Thank you for joining us as we share what we're creating in our homeschools. We cordially invite you to add your link sharing artwork that's on your Virtual Refrigerator and then hop over to the other blogs and admire what's on their Fridges too! The Virtual Fridge link-up is open all month, with anchor posts planned for each Wednesday (although during the summer, that may not always happen!).
My artist is working a summer job, so I'm digging up some cool projects from our Virtual Fridge archives for the next few weeks. Once we're back to a regular school schedule, I hope I'll have new art from her to display, but to be honest she's not planning on doing Art for credit, so it will depend how much time she has to dabble in it as a hobby. If you're a fairly regular contributor to the Virtual Fridge, would you be interested in joining in as a co-host? If that sounds appealing to you, please contact me for more information.
A couple of years ago, the Virtual Fridge hosts presented some artist studies, and we picked some modern artists to feature during our month. One of the artists we studied was Austrian Gustav Klimt (1862-1918). Some of his work caught our attention so we found out a little more about him, and then Kennady tried her hand at a painting inspired by one of his famous works, and it's turned out to be one of my favorites among her pieces. Klimt was a symbolist painter who started out painting architectural decorations, murals, and friezes. He also took landscape painting very seriously. Later in his career, he earned praise from critics during his 'Golden Phase', in which he used gold leaf and mosaic type patterns.
This is the original piece that inspired the project Kennady tried.
Beech Grove I by Gustav Klimt, 1902





To start, use masking tape in a couple different sizes. Press the sticky side against a t-shirt to pick up some of the fibers. (This makes it easier to take off without tearing the paper later.) Stick strips of masking tape to watercolor paper, and then paint the background with a wash of watercolors. Oranges, browns, and yellows for an autumn scene; greens for a spring or summer scene; and blues for a winter scene.


Once the wash is dry, dab on smudges and dots of watercolors - more oranges and yellows for autumn leaves; bright floral colors for blossoms or petals; or white and blue or lavender for falling snow. After all the paint is dry, gently peel off the tape.


Shade one side of the tree trunks grey, either with watercolors or water color pencils. Finally, using a fine brush, paint some black or grey markings on the trunks to make them look more like birch bark.
I can paint and draw. I believe this myself and a few other people say that they believe this too. But I'm not certain of whether it's true. ~Gustav Klimt
This post is adapted from my original Virtual Fridge post on August 13, 2015 -
Virtual Refrigerator - Gustav Klimt.
Now it's your turn! Join us by sharing your art posts here on the Virtual Fridge, and please grab our button for your post to help spread the word!


Grab a virtual magnet and add your link here to share your child's art or your arts and crafts how-to posts. Please visit the other blogs and admire what's on their Virtual Refrigerators!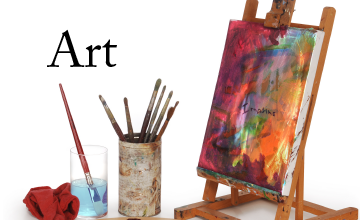 Don't miss a coffee break!
Subscribe to Homeschool Coffee Break by Email!
©2006-2017 Homeschool Coffee Break. All rights reserved. All text, photographs, artwork, and other content may not be reproduced or transmitted in any form without the written consent of the author. http://kympossibleblog.blogspot.com/