This post contains affiliate links - using affiliate links from Homeschool Coffee Break helps fuel this blog and our homeschool - thank you! Don't miss a coffee break!
Welcome to the Virtual Refrigerator art link-up! Thank you for joining us as we share what we're creating in our homeschools. We cordially invite you to add your link sharing artwork that's on your Virtual Refrigerator and then hop over to the other blogs and admire what's on their Fridges too! The Virtual Fridge link-up is open all month, with anchor posts planned for each Wednesday.
Yesterday I shared our review of these very neat (and I mean that quite literally) tempera paint markers called Thin Stix, and this cute snowman project Kennady did in just one evening.
She used a sheet of balsa wood, penciled on a few outlines, and started by painting the snow.
Then the red scarf. Any time she wanted to blend the colors a little, she needed to work very quickly, because these paints are fast drying!
A black sky background . . .
Some silver snowflakes and lettering . . .
And finally a fine-point marker to finish up the details of the snowman's face and buttons.
There's snowplace like home!
Snowplace Like Home by KAT, November 2017
You can see more in my full review of the Thin Stix Creativity Pack, and enter my giveaway for a package of these paints for yourself:
Creativity With Kwik Stix
Now it's your turn! Join us by sharing your art posts here on the Virtual Fridge, and please grab our button for your post to help spread the word!
Grab a virtual magnet and add your link here to share your child's art or your arts and crafts how-to posts. Please visit the other blogs and admire what's on their Virtual Refrigerators!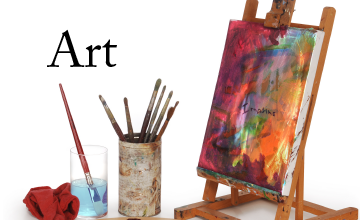 Art Courses at SchoolhouseTeachers.com




Don't miss a coffee break!
Subscribe to Homeschool Coffee Break by Email!
©2006-2017 Homeschool Coffee Break. All rights reserved. All text, photographs, artwork, and other content may not be reproduced or transmitted in any form without the written consent of the author. http://kympossibleblog.blogspot.com/