This post contains affiliate links - using affiliate links from Homeschool Coffee Break helps fuel this blog and our homeschool - thank you!
Today is one of those days - more frequent now! - that I don't have anything new. Although I know there is something Kennady is working on, and I'll have a photo of that next week if all goes according to plan!
So . . . here's the most recent art, and a look back at this week's Virtual Fridge posts from past years.
Kennady's mortarboard, design by Kat, May 2019
This is a grad gift Kennady did for a dear friend last year. The artwork she's currently working on is a gift for the same friend.
Pure As Gold by Kat, May 2018




And from two years ago, this Ukrainian Firebird, which was part of the art instruction collection from ArtAchieve that we were reviewing.
Ukrainian Firebird by KAT, June 2017




Did you know
SchoolhouseTeachers.com
currently has the entire collection of lessons from ArtAchieve?
Achieving Art Success with ArtAchieve
is available to members on the site until August of 2019. ArtAchieve lessons are inspired by folk art from all over the world, and range from very simple for young children or beginner artists to more complex projects for teens or artists with more experience. All projects are designed to be completed with simple art supplies you likely already have or are easy and relatively inexpensive to acquire.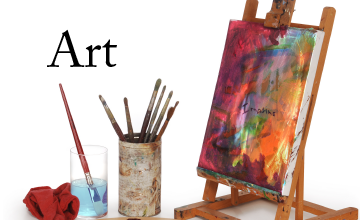 Art Courses at SchoolhouseTeachers.com




There are lots of other art instruction resources on the
SchoolhouseTeachers.com Art
page too! And curriculum and resources for every subject in your homeschool as well. If you're looking for some fun educational ideas for your summer break, or you're hunting down curriculum for the next school year,
SchoolhouseTeachers.com
has you covered! All courses, all subjects - for your whole family, and no limits. During June, you can sign up using the coupon code FIREFLY and get your first month for just $5.
Please say hello to the new co-hosts of the Virtual Refrigerator:
Jennifer at A "Peace" of Mind
and
Kristin at A Mom's Quest to Teach.
I'm looking forward to seeing what they'll do with the Virtual Fridge! Our current link-up is open through the end of June, with anchor posts appearing each Thursday.
Welcome to the Virtual Refrigerator art link-up! Join us and share the artwork created in your homeschool. We cordially invite you to add your link and then hop over to the other blogs and admire what's on their Fridges too! The Virtual Fridge link-up is open all month.
Virtual Refrigerator posts on Homeschool Coffee Break
Now it's your turn! Join us by sharing your art posts here on the Virtual Fridge!
Don't miss a coffee break!
Subscribe to Homeschool Coffee Break by Email!
©2006-2019 Homeschool Coffee Break. All rights reserved. All text, photographs, artwork, and other content may not be reproduced or transmitted in any form without the written consent of the author. http://kympossibleblog.blogspot.com/
We are a participant in the Amazon Services LLC Associates Program, an affiliate advertising program designed to provide a means for us to earn fees by linking to Amazon.com and affiliated sites.