So I looked back through my digital photo albums wondering if I actually take pictures on Easter. I couldn't think of any since my daughter was very little and went to an egg hunt. But I was wrong. For the last several years I have taken pictures of our Easter Sunday tradition! We go to the Hershey Bears hockey game on Easter Sunday!
I know, kind of a strange tradition. But it's worked out great for a few reasons. We usually bought the younger two kids a membership in the kids club, which meant they got a couple of vouchers for free tickets to home games - but those could only be used on Wednesday or Sunday games, which we normally can't get to because we have church activities on Wednesday evenings and DH plays hockey on Sunday evenings. Not to mention, it's a school night (even for homeschoolers!) and Hershey is a bit more than an hour away from here. But on Easter Sunday, hubby's hockey league doesn't play, so we have a day off. The Bears game is rarely sold out for an Easter Sunday game, so it's a great day for us to go.
Easter 2012
I think we missed going in 2011 because of the flooding. That was the year a number of the businesses near the arena in Hershey were damaged by flooding. This picture was taken near our place.
So Kennady and I went for a walk instead.
In 2010, we not only saw the game, but the Calder Cup was on display.
LOL Kennady grabbed a random photo of Landon - and look! That's me in the background!
Spencer during intermission
At the game in 2008:
Kennady got a new mini Coco toy at that game.
Harrison even went to that one - he was 15
Our other Easter tradition is making Resurrection Rolls. A buttered marshmallow rolled in cinnamon sugar, and baked inside a refrigerated crescent roll. So simple, but my kids have loved these since I first made them when my big boys were little, and ask for them every year. Even Harrison and Spencer, now 20 and 18 years old, still ask for them.
This post is linked at:
Debbie's Digest for Think Back Thursday.
Visit
Debbie's Digest
to join in with Think Back Thursday, and to see what other bloggers are sharing this week. Upcoming themes include: School; Celebration; Outdoors; Showers/Rain/Rainbow/Kids Playing in the Rain; and Flowers.
Think Back Thursday is a photo meme that encourages sharing something from the past. It is hosted by
Debbie's Digest
. You can find out more about it, and how you can participate, by clicking the link or the button below.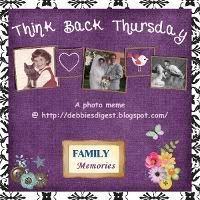 ©2006-2013 Homeschool Coffee Break. All rights reserved. All text, photographs, artwork, and other content may not be reproduced or transmitted in any form without the written consent of the author. http://kympossibleblog.blogspot.com/