This post may contain affiliate links - using affiliate links from Homeschool Coffee Break helps fuel this blog and our homeschool - thank you!
In our homeschool... overall things went pretty well this week and the kids are coming along well in all their subjects. Except. We still have nothing but headaches with Landon's Algebra videos. And Kennady and I wound up putting her Science on hold for the week and concentrated on other things. Faster internet is looking like our only real option on getting back on track with Algebra, so our research into switching providers is ongoing. In the meantime, we continue to make do. Landon did get quite a bit done in the Drafting and Nutrition courses this week, so our time has not been wasted. Much. ;-)
In other news...
Landon was eager to get going with practicing his driving skills, and as a result, I've found an excellent motivator for him to get his schoolwork done! The hubster reports that Landon did better his first time behind the wheel than either of the other boys did. That reminds me - when Landon's Learner's Permit arrived in the mail, he whisked it off to his wallet before I could get a picture. So I guess I will have to do that this coming week.
Turned out to be a pretty good week at the family dining table, with treats like
Croque Monsieur and Biftech Hache
on the menu, along with more
fresh-baked Baguettes
. Yesterday I baked the Chocolate Lace Cheesecake in honor of Valentines Day, and this morning I baked more bread.
Landon and Kennady are away at youth winter retreat this weekend, so it's pretty quiet here at home. The timing was perfect for me and the hubster to go out for a Valentines dinner, so we did that last night. Of course we went to a BBQ joint! A cute little hole-in-the-wall type place where we didn't need reservations, and where most things on the menu were smoked and/or included bacon. It was wonderful!
Things that made me smile...
Last Sunday Kennady and her friend Hannah sang with our worship team, and sang special music and they did such a great job! Made me and a lot of people smile.

34 Weeks of Clean...
I'm participating in a weekly challenge and link-up at
Family, Faith, and Fridays
and this week we were cleaning our ovens, stovetops, and making sure we were truly finished cleaning our kitchens. Lucky for me, cleaning the oven and stovetop were not particularly difficult jobs because the oven is self-cleaning and because my mom decided to give my stovetop a good cleaning when she was here in December. I did run the cleaning cycle on the oven though, and made sure to wipe it out really well this time. (Often I just do a "good enough" wipe-down of the ashes left behind after cleaning. My bad.)
When Mom was here over the holidays, she had scrubbed out the burner pans on the stovetop, so they just needed a quick wash. I lifted up the stovetop to clean underneath, and discovered that I totally need to do that more often. Blech!! But it's nice and shiny now - so much that it's reflecting the light!
Another part of the assignment was clearing and decluttering the kitchen counters, which I've been working on anyway. I have two sections of counter in my kitchen - the above short counters on either side of the stovetop, and a long L-shaped counter on the opposite side. I didn't take a picture of that side for whatever reason, and I still need to wash up the rest of my dishes (I did some baking this morning) and clear a few things off of it today before I can say it's truly finished.
For Week 7, we're taking on our Dining Rooms! My first thought is that mine should be pretty easy, so I hope I'm right. Not that it doesn't need a cleaning and organizing - I just don't anticipate having a clean very much guck in there! For the details of the assignment, go to
Family, Faith, and Fridays
. Join in if you haven't already, and check back next week for our progress!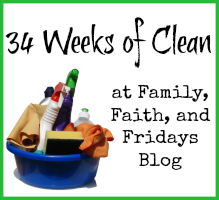 On my blog this week...
A Taste of Europe - Adding Some French Flair to American Fare
Virtual Refrigerator - Happy Valentine's Day!
Midterm Evaluation - Tenth Grade
Middle School Monday - France
34 Weeks of Clean - Recipes - Chocolate Lace Cheesecake
On the bookshelf...
A Change of Fortune
by Jen Turano
Where Trust Lies
by Janette Oke and Laurel Oke Logan
The Princess Bride
by William Goldman
I'm working on updating my book blog,
Just A Second
, so my reviews of some of the books I've finished recently should start showing up there today and tomorrow. Hopefully I can get caught up there again, and stay up to date.
A parting shot...
My mom's birthday was yesterday, and this is the drawing Kennady made for us to send to her.
Don't miss a coffee break!
Subscribe to Homeschool Coffee Break by Email!
©2006-2015 Homeschool Coffee Break. All rights reserved. All text, photographs, artwork, and other content may not be reproduced or transmitted in any form without the written consent of the author. http://kympossibleblog.blogspot.com/