This post may contain affiliate links - using affiliate links from Homeschool Coffee Break helps fuel this blog and our homeschool - thank you!
In our homeschool... it was a fairly productive week, but I have to admit that it wasn't very hands-on at all from me. I should have made it a priority to work on Grammar with Landon and I didn't, and despite good intentions, Kennady and I didn't get very far with the Science or Geography things we were going to work on together. I'm glad Landon is doing a good job of keeping up with World History, and he was able to get started on a new novel for Literature this week (Pilgrim's Progress). Kennady is doing a great job in her Literature study, and I'm proud of her diligence in Math lately. It's the subject that challenges her the most, and she still needs to be prodded to work on it some days, but at least she doesn't complain when I remind her.

Last week she had wanted to do a couple sketches related to Geography, but we had no sketch pads in the house! Can you imagine!? I purchased some art supplies this week, and she got this sketch done of the Leaning Tower of Pisa.
In other news...
On Monday I took Landon and Kennady to the eye doctor. It was time for a check-up for Landon, to see if his prescriptions needed an update (just a very tiny one, but it's time to order new contacts for him anyway); and it was time to find out if Kennady needed glasses (we suspected she would). We did get a prescription for glasses for Kennady, but a very mild one, so the eye doctor said we could get glasses for her, but she wouldn't be required to wear them all the time - just when she wanted to. Personally, I think she wants to, based on how often she borrows my driving glasses, and how much she enjoys trying on her friends' glasses!
On Tuesday, I was happy to get rid of several bags of clothing, donated to Purple Heart. We are gradually "unstuffing" our house!
Wednesday was the day the flooring sub-contractor came to the house so that DH and I could start making a decision on the new flooring for the living room. We have expensive tastes, as it turns out! Our homeowners insurance is covering the restoration after the frozen pipe we had last month, but we don't know just how much the settlement will be yet. Hopefully enough for us to get the flooring we want for the living room, although we're sure there won't be enough to also redo the family room. Stay tuned!
And in more home projects news, Thursday was the big day that our new solar panels were installed!
We won't be using the solar generated power until after a final inspection and getting the meter switched out, but it was a pretty interesting day! So bring on the spring sunshine! (Today? It's snowing. LOL)
Later that evening, we noticed a large number of American Robins in our backyard. We were a bit surprised because we thought robins were generally quite territorial, but after some research I found that the territorial behavior is mostly during breeding season, and that robins do gather sometimes in winter. Still, it was something we hadn't seen before.
They don't show up that well, but the dark "spots" on the grass are robins - about 23 in this shot.
Things that made me smile...
these "cacti" that Kennady started making.

34 Weeks of Clean...
I'm participating in a weekly challenge and link-up at
Family, Faith, and Fridays.
Our Week 12 assignment was the Family Room and DVDs, and I have to admit I pretty much skipped this one. Our family room is still chaotic as we clean up after the water damage, and although we did some work on getting it back in shape this week, I completely failed to take pictures! Not that the difference would be very noticeable anyway. If we make any more progress this week, I may update that in a separate post.
I did finish up the Week 11 project of cleaning the bathrooms, and it was especially nice to find my counter again!
For Week 13, the assignment is to get our Pictures and Scrapbooks organized! I think that will be an ongoing project for me, but I have to start somewhere! For the details of the assignment, go to
Family, Faith, and Fridays
. Join in if you haven't already, and check back next week for our progress!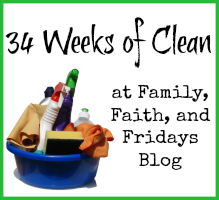 I recommend...
the series that fellow Schoolhouse Crew blogger Kemi has been doing on her blog, Homemaking Organized. She has been interviewing and featuring Crew bloggers and how they homeschool and keep up with homemaking. Well, I am not that great at the homemaking part, but I was honored to be Kemi's featured blogger this week! I'd love for you to check out the post (and the series) and let me know what you think:
Visiting with Kym of Homeschool Coffee Break
On the bookshelf...
Brigid of Ireland
by Cindy Thomson
As You Wish: Inconceivable Tales from the Making of The Princess Bride
by Cary Elwes
The Tutor's Daughter
by Julie Klassen
A parting shot...
Beautiful as winter can be, I think we're all ready for warm, sunny days now!
Don't miss a coffee break!
Subscribe to Homeschool Coffee Break by Email!
©2006-2015 Homeschool Coffee Break. All rights reserved. All text, photographs, artwork, and other content may not be reproduced or transmitted in any form without the written consent of the author. http://kympossibleblog.blogspot.com/